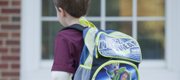 Subscribe to the email edition of First Bell and we'll deliver you the latest local education news and notes every weekday at noon.
I'm working on a story about Standards Based Progress Reports, the documents used in the Lawrence school district to track student performance in grades K-6.
Translation: Report cards.
But these report cards aren't like the traditional ones many oldsters remember. In grades K-3, for example, the letters A, B, C, D and F are not used as grades. Instead, students receive an S for successfully meeting standards, an M for making progress toward standards, a T for being targeted for growth, and E for excelling consistently.
(The district mentions the E description last, because S is the goal: successfully meeting standards as they relate to language arts, math, science and social studies.)
I mention all this because such rating systems apparently are changing elsewhere, outside k_6 or even K-12 education. Angelique Kobler, the district's division director for curriculum and instruction, noted that some college students abroad strive to get grades that many U.S. students would be afraid to see on their transcripts.
"In Australia, a D means distinguished," she said.
It's been fun talking with teachers about the Standards Based Progress Reports, and I'll be putting together a story here in the coming days. If anyone has any thoughts about grades, please let me know...
•••
The Lawrence school district offers free developmental screenings to assess preschoolers' walking, talking, hearing, vision, thinking and social skills.
The screenings are available for children who are 3 to 5 years old, and are offered by Lawrence Early Childhood Special Services. Organizers encourage any parents concerned about a preschooler's development to consider taking advantage of the free screenings.
Screenings will be offered, by appointment, during two upcoming Wednesdays — Sept. 14 and Oct. 12 — at Kennedy School, 1605 Davis Road, which is across Harper Street from the Douglas County 4-H Fairgrounds. A screening is conducted during a single appointment.
For more information, or to schedule an appointment, call or e-mail:
• Edie Boehle, secretary, 330-1643, eboehle@usd497.org.
• Morgan Carter, school psychologist, 330-4389, mcarter@usd497.org.
•••
One of the city's largest employers is adding a benefit for employees, as the Lawrence school district cranks up its Employee Assistance Program.
The program, provided through New Directions Behavioral Health, offers free, confidential services 24 hours a day from licensed professionals on a variety of topics:
• Referrals for legal, financial and family services.
• Employee and supervisor on-site workshops.
• Online resources, including work/life services.
• Referrals to health plan benefits and/or community resources, if needed.
Employees are eligible to receive as many as six face-to-face or telephone visits with a licensed counselor per incident, per year.
Copyright 2018 The Lawrence Journal-World. All rights reserved. This material may not be published, broadcast, rewritten or redistributed. We strive to uphold our values for every story published.