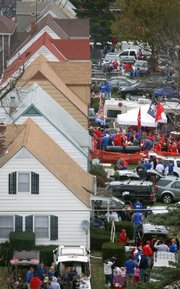 Theron Hawley and Justin Langford go whole-hog when they tailgate at Kansas University football games.
The Lawrence buddies and their friends have the requisite tent and grill, plus a fire pit, propane heaters for those chilly games, a giant blow up Jayhawk, buckets of beer and more than enough food.
They do night games, day games, morning games, weekday games, the annual spring game. Heck, they even spent 12 hours before a night game last year roasting a pig — head and all — on a spit.
"Pretty awesome," Langford says of the 110-pound pig. "But kind of disturbing at the same time. And we're planning on doing it again this year."
These people are serious.
And it's helpful to learn from them and other masters of tailgating, whether you plan to be at one pro or college game this year or for every single kick off. There's most certainly an art to tailgating. It's party planning for the sport enthusiast, to be exact.
So here's tips and tricks for a winning tailgate, even if your team loses the game.
The basics
Stake out your spot and know your timeline. The first rule of tailgating: find your spot. If you're doing the KU games, know that if you don't have a parking pass, you'll have to get their extra early to find a worthy patch of grass or blacktop near Memorial Stadium.
Tim Flory, a pro barbecue competitor with Lawrence's Crimson and Blue BBQ team, has tailgated at KU games, Chiefs and Royals games, and even at a NASCAR race. He says there's no point in tailgating if you get there close to game time, can't get a spot or feel stressed and rushed because you pulled in late.
"Don't get there 45 minutes before the game and try to get your grill going," Flory says. "Make sure you give yourself plenty of time to have fun and enjoy the atmosphere and people walking by saying, 'Hey, what are you cooking?'"
Prep ahead of time. This goes for both food and supplies. Before going to bed on Friday night, Hawley does his rounds to make sure his tailgating supplies — tent, chairs, grill, gear — are read to go.
"I usually have everything in my garage and just kind of load it up on Friday, except for some of the perishable items," says Hawley, who uses his truck as his official tailgate vehicle. "I'll load those up on Saturday morning and go out."
As for the food, Flory says that if barbecue competitions have taught him anything, it's to do the work early so you're not scrambling.
"I think preparation on tailgating is key. You can do it two or three days ahead of time," Flory says. "Hell, the longer something marinates, the better it's going to taste. I've never tasted something and gone, 'Damn, I marinated it too long.'"
Don't do it all yourself. Even if you're a control freak, you're going to need someone's help with something. Whether that be setting up, food prep, food purchasing, or offsetting the cost. Make sure everyone who is coming has a role, a side dish, a few dollars to spare, so that it doesn't become overwhelming.
Hawley says he usually brings enough meat, alcohol and other basics that tailgaters are covered if someone forgets one thing or another, but he says his group still sets up a loose system of give and take with guests bringing food to share and beer to go in a communal cooler. What isn't taken from the beer cooler just gets brought back the next week.
Langford says the group also started a tip jar last year to make it easier on everyone involved.
"A lot of times it seemed like Theron was the one getting most of the food products, and so we would just throw money in a jar then," Langford says.
Perfect execution
Pre-game eating is just like a running game clock. Time runs out and you haven't scored your entree, you're in trouble. Our experts break down how to attack each sort of game worth tailgating.
The morning game: Games with 11 a.m. kick offs can be tricky for tailgating. It's easy to do breakfast treats like sausage/egg/cheese/veggie biscuit sandwiches, breakfast burritos and griddle-friendly pancakes, french toast and eggs. But the trick is making sure that the whole crew is actually getting up that early and will be ready to eat. Hawley suggests being ready for more than just breakfast, so you don't have hungry non-breakfast eaters showing up at halftime or after the game looking for food that's not there.
"We do a lot of breakfast-type stuff and we'll usually get there and set up, and do a breakfast before the game and then come out at halftime and do a quick lunch with hot dogs or hamburgers or something quick that we can cook," Hawley says. "And then sometimes we'll hang out and cook after the game, too."
The early afternoon game: These are a staple for football lovers. And they also make it a bit easier to plan for than games before noon. Flory suggests that if you don't have a ton of time to smoke meat, just take anything and wrap it in bacon. Seriously. He says the most popular tailgate bites he makes are bacon-wrapped cheesy peppers and bacon-wrapped shrimp.
"Cut a jalapeño in half, put some cheese in it, wrap bacon around it — it doesn't take long," Flory says. "Another great one is, and this is always a crowd pleaser, is bacon-wrapped shrimp. You want to talk about easy. Go to the store, buy yourself already peeled and deveined shrimp. Wrap a piece of bacon around it and everybody's like, 'Oh my God, what did you do?'"
The night game: This game time gives the tailgater the most menu options, but it can also can be a bit stressful if you have other weekend duties like yard-work or errands before game time. If you don't? This would be the time to do something big like roast a pig on a spit.
"It seems like the first couple of non-conference games are usually those late games, we'll try to something bigger, something a little more time-consuming," says Hawley, who is planning on doing an 80-pound pig this year. "We'll smoke meat — something that can sit there the whole day."
The weeknight game: Depending on the work schedules of those tailgating, these can either be about as normal as any weekend game or they can be much more condensed. Hawley says that if he's off from his job as a firefighter the day of a weeknight game, he'll just prepare everything as normal. If he's not, the group will just do something simple and quick like hotdogs on the grill.
If you're unsure what to make or are even just overwhelmed by the whole idea of tailgating, just go with your gut and keep it simple says Hawley.
"Start small. Get out there, get your tent and your chairs, just get set up, maybe don't try to do too much," Hawley says. "For a while I think we were doing maybe too much, and I wouldn't say that we've scaled back but some things aren't quite as complicated as before. We were doing frozen drinks and things like that out there and sometimes that's just a lot of work to do all that."
Recipes
Stuffed Portobello Mushrooms
1/2 pound sweet potatoes, peeled and chopped
1/2 pound white potatoes, peeled and chopped
8 garlic cloves, peeled and chopped
1 bay leaf
6 tablespoons shredded parmesan cheese
2 large eggs (beaten)
4 portobello mushrooms (large)
3 tablespoons salted butter
3 teaspoons olive oil
1/2 cup chopped red onion
2 tablespoons chopped fresh parsley
1 teaspoon minced fresh rosemary
12 ounces fresh spinach, chopped
Salt & pepper to taste
Cook all potatoes, 1/2 of the minced garlic, and bay leaf in large saucepan of boiling salted water until very tender, about 12 minutes. Drain; discard bay leaf. Return potatoes to pot. Mash until smooth; cool slightly. Mix in 3 tablespoons cheese. Season with salt and pepper. Whisk in eggs.
Wash and remove portabello mushroom stems and chop finely. Heat 2 tablespoons butter in large skillet over medium-high heat. Add mushroom stems, remainder of the minced garlic and onion. Saute 5 minutes. Stir in parsley and rosemary (if you cannot find fresh rosemary, substitute 1/4 teaspoon dried rosemary). Season with salt and pepper.
Preheat oven to 400 degrees. Brush rounded sides of mushrooms with 2 teaspoons olive oil. Place on baking sheet, gill sides up. Bake 10 minutes. Reduce oven temperature to 350 degrees. Divide onion mixture among mushroom caps. Mound potato mixture in caps. Sprinkle generously with cheese. Bake until heated through, about 25 minutes.
Heat 1 tablespoon of butter in large pot over medium heat. Add spinach; saute 2 minutes. Season with salt and pepper. Divide among 4 plates. Top each serving with 1 stuffed mushroom.
— Recipe from www.organicvalley.coop.
Pork and Pineapple Kabobs
1/2 cup barbecue sauce
2 tablespoons Dijon mustard
1 tablespoon finely chopped fresh rosemary
1 pound boneless pork chops, cut into 1-inch pieces
1 cup fresh pineapple chunks (1 inch)
1 cup green pepper squares (1 inch)
1/2 cup red onion chunks (1 inch)
Mix first 3 ingredients. Reserve 1/4 cup sauce for later use. Pour remaining sauce over chops in shallow dish. Turn chops over to coat both sides of each. Refrigerate 15 min. to marinate.
Heat barbecue to medium-high heat. Remove meat from marinade. Discard marinade. Thread meat onto 8 skewers alternately with pineapple, peppers and onions.
Grill 12 to 14 min. or until meat is done, turning occasionally and brushing with reserved sauce.
— Recipe from www.kraftrecipes.com.
Sliders
1 1/2 to 2 pounds ground round
Salt and pepper to taste
8 small buns
Extra virgin olive oil
4 leaves romaine or green leaf lettuce
1 large tomato, sliced
1/4 small red onion, thinly sliced
Preheat the grill. Divide and gently shape the meat into 8 small patties. Season liberally with salt and pepper. Grill meat to desired doneness, about 4 minutes per side over a medium fire.
If you're a cheeseburger fan, add the cheese as soon as you flip to the second side. Meanwhile, brush buns with olive oil and grill just until lightly toasted. Dress burgers with lettuce, tomatoes and onions and serve.
— Recipe from www.wholefoodsmarkets.com.
Roasted Corn and Tomato Salad with Basil and Avocado
4 earns of corn, still in the husk
1 large or 2 medium shallot, finely diced
1 tablespoon red wine vinegar
1 tablespoon sherry vinegar
6 tablespoons extra virgin olive oil
Salt and pepper
1 1/2 cups mixed cherry tomatoes
A handful of basil leaves, cut in a 1/4-inch chiffonade
1 1/2 pounds mixed tomatoes (different colors, different sizes)
2 avocados
Place the ears of corn in a 375-degree oven and roast for 20 minutes. Remove from oven and when cool enough to handle, pull of the husks and silks. Cut the kernels from the cob. You should have about 4 cups corn kernels.
While the corn roasts, place the shallots in a small bowl with some salt and cover with the vinegar. Set aside to macerate for 10 to 15 minutes. Whisk in 6 tablespoons of olive oil. Taste and correct the seasoning with salt and pepper. Set aside.
Halve the cherry tomatoes. Wash and core the vine-ripe tomatoes. Slice some and cut others in wedges. Halve and pit the avocados. Cut each avocado half into 1/3-inch thick slices cross-wise.
In a large bowl, combine the corn, cherry tomatoes and basil. Season with salt & pepper and toss to combine. Drizzle some of the vinaigrette over and toss until the corn and tomatoes are lightly coated. Taste and correct the seasoning with salt, pepper and more vinegar, if necessary.
To plate the salad: Arrange half of the sliced/wedged tomatoes and half of the avocado slices on a large platter. Season with salt and pepper and drizzle with some of the vinaigrette. Spoon half of the corn salad over the tomatoes and avocados. Repeat these two layers and serve. Serves four as an entrée, eight as an appetizer or side dish.
Note: Salad may be built on individual plates, or a large serving platter.
— Recipe from chef Paige Vandegrift for The Merc.
Baby Back Barbecue Ribs
3 pounds pork baby back ribs
1 tablespoon brown sugar
1 tablespoon paprika
2 teaspoons garlic powder
1 1/2 teaspoon ground black pepper
1/2 cup water
1 cup barbecue sauce
Heat grill to medium heat.
Place half the ribs in single layer on large sheet heavy-duty foil. Mix sugar and seasonings; rub half evenly onto both sides of ribs. Bring up foil sides. Double fold top and one end to seal packet. Add 1/4 cup water to packet through open end. Double fold remaining end, leaving room for heat circulation inside. Repeat to make second packet.
Grill 45 minutes to 1 hour or until ribs are done. Remove ribs from foil; discard foil.
Return ribs to grill; brush with barbecue sauce. Grill 15 minutes, turning and brushing occasionally with remaining sauce.
— Recipe from www.kraftrecipes.com.
Black Bean Hummus
2 cups no-salt-added cooked black beans, drained and rinsed
2 cloves garlic, roughly chopped
1/4 cup tahini
1 teaspoon ground cumin
2 tablespoons water
2 teaspoons reduced-sodium tamari
1 teaspoon ume vinegar or 2 teaspoons lemon juice (or to taste)
1/2 cup chopped fresh cilantro
Combine black beans, garlic, tahini, cumin, water, tamari and vinegar in a food processor. Pulse until smooth and all ingredients are combined. Transfer to a serving bowl, fold in cilantro and serve with corn chips and other dippers.
— Recipe from www.wholefoodsmarket.com.
Chocolatey Football Bites
6 squares semi-sweet chocolate
1/2 cup light corn syrup
1 tablespoon butter or margarine
1/2 teaspoon vanilla
4 cups cocoa sweetened rice cereal
White decorating gel
Microwave chocolate, corn syrup and butter in large microwaveable bowl on high 2 1/2 min., stirring after 1 1/2 min. Blend in vanilla.
Add cereal; mix well. Cool 10 min. Shape into 18 (3-inch-long) football shapes with lightly moistened hands. Place on large sheet of wax paper. Cool completely.
Use decorating gel to add "lacings" to "footballs." Let stand until gel is firm.
— Recipe from www.kraftrecipes.com.
Copyright 2018 The Lawrence Journal-World. All rights reserved. This material may not be published, broadcast, rewritten or redistributed. We strive to uphold our values for every story published.