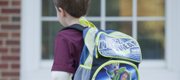 Subscribe to the email edition of First Bell and we'll deliver you the latest local education news and notes every weekday at noon.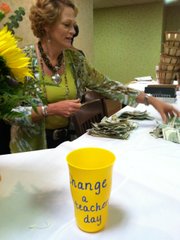 The school year's just a few days old, but leaders of the Lawrence Schools Foundation already have their eyes set on easing financial pains for teachers and their students come mid-year.
During the Community Education Breakfast last Friday, foundation leaders placed yellow cups at each of the dozens of tables set up at the Holiday Inn Lawrence.
The goal: fill them up with donated coins, dollar bills and checks to help defray the inevitable commerce that comes as the year wears on — teachers digging into their own pockets and purses to pay for school supplies for students who can't afford to replenish their pencils, paper or anything else they need for class.
Totals aren't in yet from Friday's collection, but foundation leaders sure were busy counting the money.
Anyone interested in contributing to the cause may contact the foundation at 330-2790 or email sesau@usd497.org. More information is available at www.LawrenceSchoolsFoundation.org.
•••
As Lawrence school district administrators prepare for their all-district Professional Development Day, it's not unusual to hear plenty of talk about the schedule, depending on your perspective:
• District administration: It's an essential program, to help ensure that all educators are on the same page when it comes to curriculum and other programs that need consistency.
• Teachers: It's an essential program, to learn from colleagues about their best practices and to give them time to plan for essential programs and educational offerings.
• Parents: Oh my, I need to arrange day care for my kids.
• Students: Sweet! Another day out of school.
But there's another perspective to keep in mind, one I'm thinking could prove increasingly valuable as financial pressure continues to mount on school districts.
That would be among the folks who recruit teachers to come work in Lawrence and otherwise strive to help retain existing one within the teaching ranks.
Offering districtwide professional development, an in-school training, and once-a-week collaboration time at the school levels makes a difference, reports Kim Bodensteiner, the district's chief academic officer.
"It's a draw when we're recruiting teachers, to be able to say, 'You will have time, once a week, to be able to collaborate with your colleagues to do planning and problem-solving and working together. It's a high-value thing."
Such collaboration time has been part of the district's schedule since the late 1990s.
•••
Centerpieces from the Community Education Breakfast will get plenty of play during the coming school year.
The decorative displays were built around basketball, including:
• A photo of James Naismith, who invested in the game and serviced as Kansas University's first coach.
• A basket, akin to the peach basket Naismith is said to have nailed to a gym wall to serve as the goal for his first game.
• A small version of a modern-day basketball, to go along with the theme of the day.
The balls and baskets were to be donated to the early-childhood program for at-risk 4-year-olds, who attend classes at Kennedy School. The program is among the many endeavors financed by the foundation.
For more information, visit www.LawrenceSchoolsFoundation.org.
Copyright 2018 The Lawrence Journal-World. All rights reserved. This material may not be published, broadcast, rewritten or redistributed. We strive to uphold our values for every story published.