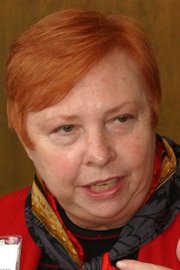 An anonymous donor has given $1 million to support a professorship at Kansas University Medical Center in honor of KUMC's executive vice chancellor and dean of its School of Medicine.
The gift will establish the Barbara F. Atkinson Professorship in pathology and laboratory medicine.
The professorship will be in the field of cytopathology, a branch of pathology that studies and diagnoses disease at the cellular level.
"This provides the resources for the department to go into the national marketplace and recruit an outstanding faculty member," said Dale Seuferling, president and CEO of KU Endowment.
The department could also opt to award the professorship to a current member of the department, and use it as a retention tool, he said.
"The naming of the professorship for Dr. Atkinson is a fitting tribute to her many years of service at the medical center and her vision for creating a world-class cancer center," said KU Chancellor Bernadette Gray-Little in a written statement.
The pathology department at KUMC also received a million-dollar donation through a bequest last year.
Atkinson, in the statement, called the recognition "the biggest honor of my career."
"Although the last decade of my professional life has been devoted primarily to administration at the medical center, in my heart, I will always be a pathologist," she said. "I am so proud of the outstanding work being done by the doctors and scientists every day in our Department of Pathology and Laboratory Medicine, especially in the area of cytopathology, which is my specialty."
Seuferling said the endowed professorship would include a salary component that could be bolstered by things like research assistance and funds for graduate assistants as well.
Copyright 2017 The Lawrence Journal-World. All rights reserved. This material may not be published, broadcast, rewritten or redistributed. We strive to uphold our values for every story published.