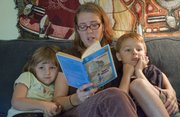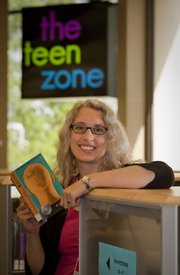 Book suggestions from our experts:
Series you've surely heard of:
"Harry Potter" by J.K. Rowling
"Twilight" by Stephenie Meyer
"The Hunger Games" by Suzanne Collins
Series you might have heard of:
"Uglies" and "Leviathan," both by Scott Westerfeld
"Vampire Academy" by Richelle Mead
"House of Night" by P.C. Cast and Kristin Cast
"His Dark Materials" by Philip Pullman
"Percy Jackson and the Olympians" by Rick Riordan
Series and stand-alones adults will surely love:
"A Great and Terrible Beauty" trilogy by Libba Bray
"Ship Breaker" by Paolo Bacigalupi
"The Gospel According to Larry" by Janet Tashjian
"Moon over Manifest" by Clare Vanderpool
"The Dark is Rising" series by Susan Cooper
"The Prydain Chronicles" series by Lloyd Alexander
Great as stand-alones:
"Feed" by M.T. Anderson
"Carter Finally Gets It" by Brent Crawford
"Runaways" by Brian K. Vaughan
"Stuck in Neutral" by Terry Trueman
YA classics to revisit:
"The Catcher in the Rye" by J.D. Salinger
"The Adventures of Tom Sawyer" by Mark Twain
"The Outsiders" by S.E. Hinton
"A Wrinkle in Time" by Madeleine L'Engle
Sure, Abby Hess has read all of the "Harry Potter" books. Most American adults have, even though J.K. Rowling's iconic series is written specifically for children and young adults.
But she's also read "The Dark is Rising" series, the "Percy Jackson" books, plus older young adult favorites like "A Wrinkle in Time," "Maniac McGee," "The Hardy Boys" series and all the "Little House on the Prairie" books. In fact, she's got tables and shelves full of as much children's literature as those meant for adults.
"I'm always cycling through books, I have two young children, I've got a 4-year-old and 6-year-old. And anytime I'm out perusing book sales and whatnot, I'm always picking up juvenile fiction," she says. "Presumably, so they can have them to read when they're older, but usually I end up reading them."
Whether they have kids or not, many adults like Hess are calling on the world of young adult fiction for their page-turning entertainment. Rebecca Power, a young adult librarian at the Lawrence Public Library, 707 Vt., says she doesn't just need to see adults pacing down the aisles of her section to get a handle on how popular it is; all she has to do is look at the volume of young adult books being printed and sold. According to Publishers Weekly, seven books — each part of a young adult or middle-grade series — sold more than 1 million copies in 2010. The top book on that list, Jeff Kinney's "The Ugly Truth" in the "Diary of a Wimpy Kid" series, sold 3.3 million copies that year.
Though it's hard to tell whether adults are buying for kids or themselves, it's true that no matter who's reading it, a lot of people are grabbing copies, especially when it comes to the best-selling series in the genre: "Harry Potter," "Twilight" and "The Hunger Games."
"We think the major changes in Y.A. over the past few years are the sheer number of books being published (so many more than before) and the amount of media attention given to them — in part from books made into movies," Power says. "With the increase in interest we are seeing a lot more trilogies — and tetralogies and series — being published. Obviously, the paranormal genre has boomed in popularity, and books about dystopian futures have become a major force with no end in sight."
Julie Trowbridge-Alford, a book-seller at The Raven Book Store, 6 E. Seventh St., says that the reason she indulges in young-adult fiction is similar to why her customers do it: for the love of a good story and themes to which every adult can relate. She compares it with "children's time" in church — when a short lesson is meant for the kids in the audience, but many times the adults' ears perk up, too.
"It's explained in such a way that it's very understandable, simple — not simplistic — but simple, and something that they can relate to that is still meaningful to them," she says. "I think in many ways adults reading young adult literature is along those lines — a lot of the genre that's very attractive is dealing with issues that younger people are facing, which is part of their appeal to younger people, but I think even as adults we look back on those times and to see it that way, (it becomes) kind of a re-exploration of our own growth."
Those themes were heavily present in the "Harry Potter" series — a seven-book tale revolving around a pre-teen wizard who deals with the trials of teenagedom all the while fighting a horrifying villain. The books, which were published from 1997 to 2008, have been credited with making an entire generation interested in reading. As for its influence in getting adults interested in reading young adult novels? It's hard to say, says Power, who thinks it's more likely that Rowling's series and Stephenie Meyer's "Twilight" series just happened to remind some adults how much fun teen books are to read.
"I'm not sure 'Harry Potter' changed the Y.A. landscape. We see it more as a children's series that had amazing staying power and cross-over appeal for teens and adults. There are much older Y.A. books that I think have always been popular with adults, including 'The Giver' by Lois Lowry, 'Ender's Game' by Orson Scott Card, 'The Outsiders' by S. E. Hinton, 'Annie on My Mind' by Nancy Garden, among others. I definitely think the 'Twilight' saga has made a lot of adults aware that Y.A. books are an option for their reading enjoyment, too."
Reading enjoyment for those who, as Trowbridge-Alford says, like the nostalgia factor. Which, Power says, can be powerful enough to make you forget all the parts of adulthood you didn't know about as a teen.
"I think Y.A. books often have fast-moving plots and less difficult language, and tend to be shorter than adult books. At the same time, they have real emotional pull, so you get a big payoff for your investment. Most of all, I think Y.A. books act as an escape, successfully making us forget adult problems."
Copyright 2018 The Lawrence Journal-World. All rights reserved. This material may not be published, broadcast, rewritten or redistributed. We strive to uphold our values for every story published.