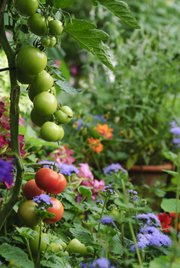 I love celebrations, especially ones that involve gardening and food, so today is a special day in my book. The fourth Sunday in August is International Kitchen Garden Day, a celebration of home-grown, hand-made food.
A kitchen garden is similar to a vegetable garden but typically includes herbs, fruits and flowers interspersed with the veggies. Kitchen gardens are meant to be pretty and are usually a focal point in the yard instead of being tucked away in the back of a yard.
The real highlight of a kitchen garden is growing things you like to eat close to where you will eat them. I love picking basil and tomatoes and bringing them right inside to cook, or stepping outside for mint leaves to add to fresh made iced tea.
A kitchen garden is also a great place for edible flowers. One of my favorite flowery dishes is lavender shortbread. Marigold flowers add spice and color to salads. Dainty violet flowers are a nice addition to many desserts.
To keep a neat appearance, try grouping plants and using repetition. For example, you might plant a tomato plant in each corner of the garden to provide a backdrop and vertical accent. Flank the tomato cages with pepper plants and tall herbs like basil.
Low-growing oregano and thyme can be interspersed with strawberry plants to fill the spaces between larger plants.
A fence, even a small one, adds another manicured touch to the garden.
Raised beds are the best bet for keeping the garden neat and also create a better growing environment than in-ground beds. Large containers also work.
To build raised beds, 2-inch by 6-inch cedar, redwood, or pressure-treated lumber works best. These are easily used to create four-foot by eight-foot rectangles. You could also use recycled plastic timbers, bricks, or blocks. Avoid old railroad ties that could leach plant-damaging creosote.
Fill beds with a mixture of soil and compost. Avoid using compost by itself as it will drain too quickly and you could end up with standing water where the compost meets the soil surface.
While I always recommend planting things you like to eat, a kitchen garden also offers the opportunity to try something new. Since most veggies and herbs are annuals, the garden can change each year. You might try an Italian theme with Romano and fava beans, paste tomatoes, and Italian herbs. Another idea is a salad garden with mixed greens and good salad-topping flowers like nasturtiums, pansies, and chives.
Kitchen gardens are an old concept that is regaining popularity. In medieval Europe, most residences had kitchen gardens to produce fresh food to eat.
Copyright 2018 The Lawrence Journal-World. All rights reserved. This material may not be published, broadcast, rewritten or redistributed. We strive to uphold our values for every story published.