Photo Gallery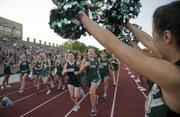 Free State High School fall sports jamboree
Free State High School junior quarterback Kyle McFarland and sophomore quarterback Joe Dineen took nearly equal snaps, and both found the end zone Thursday at a scrimmage during the Free State Fall Sports Jamboree.
Both quarterbacks are battling to replace Dylan Perry as the starting quarterback, and FSHS head coach Bob Lisher said neither player had done anything to play himself out of the position.
"Really, it's pretty even right now," McFarland said. "It's too close to call."
With such a tight race, Lisher has a simple solution: Both are going to play.
"They're both doing a good job rotating in, and they're both going to be in the huddle, quarterback, receiver or something when they other one is not playing," Lisher said. "So it's a good situation to have. We have two very athletic and quality quarterbacks there. We'll just keep playing them and see what happens with that."
Both quarterbacks also spent part of the second half of the scrimmage facing the varsity defense while playing with the junior varsity offense. The varsity team won the scrimmage, 46-6, starting each possession on the 40-yard line.
Lisher said his team needed to work on making sure its assignments are sound, while also playing hard and fast.
"We've got a ways to go, but we'll get there," Lisher said. "Our guys have just got to learn to play fast, hard and quick and do the right things."
Along with the football scrimmage, the jamboree also included scrimmages from the FSHS volleyball and boys soccer teams, as well as introductions of all fall athletes to the crowd.
The FSHS cross country teams also had the opportunity to give the crowd a sneak preview to its upcoming seasons, running a mile around the track during halftime of the football scrimmage. Coach Steve Heffernan said the runners were tickled to be a part of the jamboree.
"Even though it's on the track and it's not exactly cross country, I think they have a lot of fun running in front of people, so I think they enjoy it," Heffernan said.
The boys team is looking to have a repeat appearance in the state meet, and Heffernan feels good about where the team is. The girls team has battled injuries the past two seasons, having eight or nine out of the top 12 runners injured at the end of last season, but Heffernan thinks if the team can stay healthy, it can not only compete at state, but also earn a trophy.
The teams haven't struggled with injuries yet this season, but they have had to deal with the heat. With cooler temperatures at the jamboree, Heffernan was able to gauge his runners' ability this season by letting them run at race speed.
"For us, to be honest, this is the first time we've allowed them to run hard just because we didn't want to take any chances in the heat," Heffernan said.
Though the Jamboree was more exhibition than actual competition, Lisher said the athletes still take it seriously.
"It's just a nice event, low-pressure event but still we want to come out and put on a good product in all the sports," Lisher said.
Copyright 2018 The Lawrence Journal-World. All rights reserved. This material may not be published, broadcast, rewritten or redistributed. We strive to uphold our values for every story published.