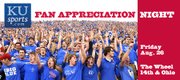 You are invited to our KUSports.com fan appreciation BBQ!
Most college teams face a big challenge early on: meshing newcomers with the players with college experience.
This feeling-out process can lead to early-season miscues, meaning that the team isn't playing its best until later in the season.
The same is true with Kansas University volleyball, but since coach Ray Bechard adds just two newcomers to a solid group of 15 returning players, there aren't many chemistry issues.
Consider, too, that the team took on a 12-day summer training trip to Europe.
The 2011 version of the Kansas volleyball team expects to hit the ground running — starting with Friday's game against Florida A&M; in the Georgia Bulldog Invitational in Athens, Ga.
With all their experience, the Jayhawks might have a leg up on competition still working lots of newcomers into the mix.
"Those two things combined — the number of returning players and the opportunity to train and compete this spring and summer — have really helped us get ahead of the eight-ball a little bit," Bechard said.
In 2010, the Jayhawks' season ended on a sour note.
In the last match of the season, Kansas (17-14, 8-10 in the Big 12 Conference) knocked off a ranked Oklahoma team on the road in three straight sets. But the Jayhawks didn't make the NCAA Tournament and watched as Oklahoma made it to the Sweet 16.
A few more conference victories — Bechard pointed to five-set losses at Colorado, Texas Tech and Kansas State — and the Jayhawks probably would've been playing in the postseason.
"There were some matches that we didn't take care of and we should have," Bechard said. "Hopefully we've learned from that and adjust to what we need to do in different situations."
Sophomore middle blocker Caroline Jarmoc said the victory over Oklahoma to end the season doesn't really give the Jayhawks any kind of motivation heading into this season.
"I think it's more focusing on us and how strong we are coming back and with our new additions," Jarmoc said. "We're all very hopeful and you can feel it in practice. We all have higher expectations, and we push each other more."
The two newcomers, outside hitters Chelsea Albers and Sara McClinton, hail from Nebraska, where they were named to the Super-State team.
Bechard, in his 14th year as the head coach, said Albers and McClinton will figure into the rotation immediately.
"They are freshmen, and there's times where we say, 'Wow!' and times when we say, 'Wow?'" Bechard said. "Those are two different wows for different reasons. Hopefully the good wows will take over as we get into this."
Kansas is set to play Liberty and Georgia on Saturday. The Jayhawks will first play at home on Sept. 2 in the Jayhawk Invitational.
Copyright 2018 The Lawrence Journal-World. All rights reserved. This material may not be published, broadcast, rewritten or redistributed. We strive to uphold our values for every story published.