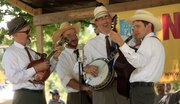 Combine a loose, free-form jam session with a strict instrumental competition and you'd get the 31st Annual Kansas State Fiddling and Picking Championships.
This event, which starts at noon Sunday in South Park, is designed for musicians of all ages and skill groups to compete in. Also, of course, fans of acoustic roots music are more than welcome to attend. According to event coordinator Gayle Sigurdson, the Championships merge the rigors of a music contest with the down-home feel of a barn dance.
"It's a full day of traditional acoustic music," Sigurdson says. "It includes eight competitions and four concerts from local bands. We wanted the kind of thing — a real community event — that not only recognizes the accomplished musicians, but helps new musicians as well. We've had five-year-olds competing. Frequently we have had youth competitors win the whole thing and beat out the adults."
Sigurdson says one of the main draws is the festive attitude of the Championships. She says there's a feeling of interconnectedness that occurs when a collection of very different groups of people come together to share their love of Americana.
"I think the main attraction to the traditional acoustic music is that it's a participation sport. It's not people sitting and listening, it's people getting up and playing themselves. This is the music you hear in living rooms and back yards. There are a lot of American stories tied up in this music. You might hear someone play a whole set of railroad songs, or you can have union songs that celebrate workers. Someone else could do all Gospel or fiddle tunes. There are stories behind all of that."
Local musicians and residents have been particularly important to this event, Sigurdson says. She cites local businesses in particular as a strong factor in this event's 31-year success story.
"It started here and the Lawrence community has always been really supportive of it. There's a lot of talent in the area and our area businesses have let us keep going. Anyone should be able to have a good time here. If you like the music, if you just want to have a nice summer day in the park or if you enjoy good food and beer — it's a great way to enjoy music in the park and each other."
Diane Gillenwater, Executive Director of the Americana Music Academy, 1419 Mass., says her organization's members will be donating their time to the event and to coordinate a kick-off potluck and jam session, 6 p.m., Saturday at the Academy.
Gillenwater, a former state fiddle champion, said this kind of roots music is important because it provides an artistic outlet for musicians. A classically trained violinist, Gillenwater found her musical niche in Blue Grass.
"There was nobody I knew of that could teach me it. What I had to do was continue down the violin performance path. I finally found some people that wanted to play Blue Grass. I knew immediately when I heard that kind of music that that's what was calling my heart."
Gillenwater says winning the fiddling championship in 2002 was "a real thrill." She stresses that it's not all fun and games at this competition.
"It's bragging rights, it's an honor. There's a lot of good players here," she says. "Competition isn't for everybody, but it's bragging rights. You win a little money, but the other thing that's good about a competition is that it gives you something to focus on. Now you've got something new you can do. I think you're going to stick with your music longer if you have something to work on."
2005 Finger Pick Guitar Champion, Dan Bliss, agrees with Gillenwater about the rigors and rewards of musical competition. Bliss, who will perform on the south stage of the Championships this year, says this is a can't-miss event for many of its yearly attendees.
"The contests are fun to watch and take part in," he says. "It can be great practice motivation for a player who makes a commitment to the contest. The Kansas State Fiddle and Picking Championships really is a treasure that we're very lucky to have in Lawrence every year. I first attended over 20 years ago and just loved it."
Bliss says it's the memories and camaraderie that keep bringing him back to this event and what makes it special.
"It's such a comfortable gathering of laid-back, genuine folks sharing great acoustic roots music. There's a very strong community and family atmosphere and a lot of respect for tradition, passing the music on to the next generation. A favorite memory is seeing a woman competing in the fiddling contest accompanied by her husband on guitar. Their performance was great. I was some distance from the stage, so it was a while before I noticed her sleeping baby in a papoose on her back as she played."
Copyright 2018 The Lawrence Journal-World. All rights reserved. This material may not be published, broadcast, rewritten or redistributed. We strive to uphold our values for every story published.