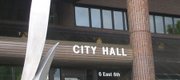 Subscribe to the email edition of Town Talk and we'll deliver you the latest city news and notes every weekday at noon.
News and notes from around town:
• Well, kiss my pork butt. It looks like bad news for barbecue fans. (Really, I'm not pulling your pork here.) We've previously reported that efforts to re-open Vermont Street BBQ in a new location on Mass. Street were going pretty slowly. Now, it has become official. Commercial real estate agent Allison Vance Moore confirmed to me that a deal for Vermont Street to open in the former Joe College location at 734 Mass. has fallen apart. (Kind of like a slow-cooked pork butt.) Moore, an agent with Lawrence's Colliers International, said the property owner has directed her to begin marketing the property again. I've put several calls into Chris Brann, the former general manager for Vermont Street who was going to reopen the restaurant. But I haven't heard back from him, so I can't tell you whether that dream will live on at another location. Man, why am I so hungry for a pulled pork sandwich?
• One deal where the stakes (not steaks, focus) are quite a bit higher is with Berry Plastics and its plans to build a $20 million warehouse and printing facility on a site northwest of Lawrence. For much of 2010, economic development leaders in Lawrence were in full rush mode to get this project approved and ready to be built because the company was on a tight timeline. Well, the project sailed through the approval process like few others, but now it is in a definite holding pattern. For months now, a building permit has been ready for the company to pull (not pork) a building permit. (Focus stomach, focus.) But the project — which will be just west of the Lecompton interchange — hasn't started. But sources tell me that this isn't a sign that the deal is falling apart. Instead, it is just taking longer than anyone had hoped. My understanding is that the actual $20 million building won't ultimately be owned by Berry but rather by a New York hedge fund. Berry and the hedge fund (potentially cool band name) are still trying to work out all the details of that financial arrangement. Lawyers who bill by the hour have gotten involved, and they're racking up the hours.
"We have been in pretty constant communication with Berry," said Douglas County Administrator Craig Weinaug. "Attorneys for various parties on the East Coast are working out details on the financing and ownership of the building, and that just hasn't been completed yet. But I have gotten no indications that there are any problems."
A local representative with Berry declined to comment on the matter, and an executive with Berry's corporate offices in Evansville, Ind., did not return a call for comment.
Privately, people in Lawrence economic development circles tell me they still believe the deal — which is seen as critical to keeping Berry and its more than 900 employees in Lawrence for the long haul — will happen. But yes, the delays have created some anxiety.
• I think it has been well known that Lawrence residents have had some anxiety over the condition of the city's streets from time to time. What you may not hear as much about, though, is the condition of the city's sidewalks. Well, Gwen Klingenberg, president of the Lawrence Association of Neighborhoods does. Klingenberg said the condition of sidewalks is a pretty frequent topic among neighborhood associations. That's why Klingenberg is floating an idea that could ultimately lead to a new fee showing up on your monthly water, sewer and trash bill from the city.
The idea would be that a nominal fee of perhaps 50 to 75 cents would be added to the monthly bill of each city water and sewer customer. That money then would be put into a special city account that would be used to care for sidewalks. Just to be clear, nothing has been formally proposed at City Hall, and such a new fee isn't imminent. Instead, Klingenberg is just talking about it with various community and neighborhood leaders to see if there is some support. She said she has heard from several neighborhood associations who are interested in the idea. Negative feedback, so far, has been running light. The idea is not entirely new. City Manager David Corliss proposed a similar idea in one of his recommended budgets several years ago. But the idea did not get any traction with city commissioners at the time. If the idea does start moving forward, several details would have to be worked out. What about people who don't have a sidewalk on their property? Would they still pay? Klingenberg says likely yes, since the sidewalk are open to everybody to use.
A bigger question, though, is whether this new fund would mean the city is taking over legal responsibility to keep sidewalks in good condition. Currently under state law, if a sidewalk runs through your property, you are responsible for its maintenance. The city could approach it one of two ways. It could take over all maintenance responsibilities, or it could use the new sidewalk fund to do improvements for those property owners who have financial hardships that prevent them from maintaining their sidewalks. We'll see if this idea goes anywhere or whether it becomes like my evening jog — it ends before it ever gets started. (I'm not lazy. I just refuse to run on poor sidewalks.)

• Planning commissioners met Wednesday night on a couple of items we discussed in Town Talk. Planning commissioners approved on an 8-0 vote the rezoning and the preliminary plan for a new apartment complex at 1043 Ind., which is the site of the old Varsity House. The project will move the Varsity House down the block just a bit and will make room for a new development that will include five one-bedroom apartments, 41 two-bedroom apartments, 4 three-bedroom apartments. The old Varsity House would be converted into a boarding house with six bedrooms. The whole project would have two levels of underground parking, which would be a new feature for apartments in the crowded Oread Neighborhood.The project, though, still must have its design approved by the Historic Resources Commission, which will discuss it on Sept. 15. That may be where more of the debate occurs as questions over whether moving the Varsity House is appropriate will be raised. Ultimately, city commissioners will have to approve the project as well. But the 8-0 vote from the Planning Commission is a good sign that the project — designed by local architect Paul Werner — has this far avoided traditional problems related to zoning, parking and other such matters.
The idea of artificial turf, however, did not evoke a positive response from planning commissioners. They rejected a proposed rule change that makes the use of synthetic turf an acceptable landscaping component in the city. Planners followed the advice of the planning staff, and rejected the item on a 6-2 vote. My understanding is that the discussion Wednesday night was significant. It included two national experts who were flown into the meeting to discuss the merits of artificial turf. City commissioners ultimately will have the final call on the issue.
Copyright 2018 The Lawrence Journal-World. All rights reserved. This material may not be published, broadcast, rewritten or redistributed. We strive to uphold our values for every story published.