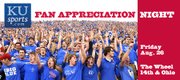 You are invited to our KUSports.com fan appreciation BBQ!
The last time Kansas University running back Rell Lewis was on a football field during a live game came in the 2009 season finale, when he picked up 54 yards on three carries and one reception during a heartbreaking, season-ending loss to Missouri at Arrowhead Stadium in Kansas City, Mo.
Lewis, a senior from Muskogee, Okla., has been through a lot since then. In addition to adjusting to a new coaching staff and enduring the pain of a 3-9 record a season ago, Lewis has dealt with a little physical pain, as well.
Sidelined for the entire 2010 season because of a knee injury that hit him last August, Lewis said the time between that Missouri game and now seemed to crawl by.
"It feels like a long time ago," he said, adding that he wasn't too impressed with his play that November day against the Tigers. "You sit a season out and it seems like a few years."
While Lewis rehabbed, the coaching staff brought in more players at his position. As camp opened, Lewis found himself in the presence of some of the best young backs the program has ever seen. Instead of sulking and looking at that as a sign that he's been passed by, Lewis went to work.
"It don't bother me," he said. "I haven't been seen on the field for a long time so I just gotta roll with the punches. I'm just glad that we've got a lot of competition at the running back position because it makes everybody compete and it brings out the best in everybody."
While most of the preseason talk is focused on sophomore James Sims, red-shirt freshman Brandon Bourbon and true freshmen Darrian Miller and Tony Pierson, Lewis has not been ruled out yet. Last week, offensive coordinator Chuck Long said it would be unwise to count Lewis out because of his experience. Sims, the team's leading rusher as a true freshman in 2010, echoed Long's thoughts.
"Rell Lewis brings a lot to the table," Sims said. "He has a burst to him, he can cut and read the holes and also pass protect because he has been here for a while so he already knows the game."
While Sims currently sits atop KU's depth chart at tailback, the sophomore from Irving, Texas, emphasized Tuesday that he wasn't keeping an eye solely on what Bourbon, Miller and Pierson were up to as the season opener creeps closer.
"I respect Rell a lot," Sims said. "Even though he hasn't always been practicing, he's helped me a lot, especially with pass protection. He gets me in the right spots and tells me what I need to do more and he helps me prepare for a game because he's already been through that longer than I have."
With just 12 more college football games guaranteed to him provided he stays healthy, Lewis isn't worried much about what could have been or never was. If he plays a little in every game this season and serves as the wise old veteran at the position, he'll take it. If he gets just a couple of carries and goes in mostly on passing downs to help keep KU's quarterbacks safe, he'll take that, too.
"That's fine with me," he said. "It's my senior season and I'm just trying to do whatever I can do to help my team succeed. If that's my role, then I gotta do it."
Although most of the reps during fall camp have gone to the backs ahead of him on the depth chart, Lewis, 5-foot-9, 205 pounds, who paints himself in the Michael Turner or Maurice Jones-Drew bowling ball mold, said he enjoyed watching what the young guys could do.
"I can't really talk about each one of them individually," he said. "But I like the way we have bonded together as a crew. I think it's helped all of us, and we all kind of know our different skill sets. We know who's the most elusive, who's more of a powerful back and who's a switch-it-up back. With us all competing, it just makes you add a little more to your game."
When asked if he thought he still could earn a few carries before he calls it a career, Lewis chose an answer that resembled his frame — small, compact and to the point.
"Yeah," he said.
Copyright 2018 The Lawrence Journal-World. All rights reserved. This material may not be published, broadcast, rewritten or redistributed. We strive to uphold our values for every story published.