On the street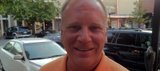 AT&T; and probably a B. Kind of limited access in areas around Lake of the Ozarks, where we spend a lot of time. Real good around here.
Trish Jess said on Tuesday it was something like a kind of Twilight Zone.
While working at the Kansas Union, her Sprint mobile phone was displaying the time one hour behind schedule. She first noticed that last Friday, she said.
"At home, it's correct," said Jess, who lives west of Monterey Way.
It wasn't just her, either. Student employees at the KU Bookstore were going on break at the wrong times, she said. Other co-workers also complained.
Amanda Davis, who lives near Ninth and New York streets, said that while at home, she experienced the issue, too, and had text messages delayed for hours at a time. At work in Overland Park, everything was normal.
On Twitter, several Lawrence residents reported having issues with Sprint phones going back to last week, saying they displayed the wrong times and were delivering text messages hours past the time they were sent.
"It delivers them kind of sporadically," Davis said. "You can tell they've been backed up."
Her husband, who works in social media from home, and also uses a Sprint phone, had it worse than she did, Davis said.
Melinda Tiemeyer, a Sprint spokeswoman, said she couldn't say for sure why the issues were occurring.
"The best guess is that it was related to all of the KU students coming back and starting class," Tiemeyer said. "We had to reallocate network resources to increase the capacity."
Some phone users reported that the issues seemed to be mostly resolved by Wednesday afternoon.
Copyright 2018 The Lawrence Journal-World. All rights reserved. This material may not be published, broadcast, rewritten or redistributed. We strive to uphold our values for every story published.