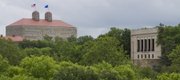 Subscribe to the email edition of Heard on the Hill and we'll deliver you the latest KU news and notes every weekday at noon.
Your daily dose of news, notes and links from around Kansas University.
• Business Week has unveiled its 2011 rankings for business schools. You can peruse the entire list here.
KU scored well in the accounting category — in 17th place — and was 28th in business law.
Overall, however, the school was ranked 108th of the 127 schools in the rankings.
That's just below Tennessee-Chattanooga, Temple University and (hold the boos, please) Kansas State University.
The business schools at Notre Dame, Virginia, Emory University, Penn and Cornell made up the top five in the magazine's rankings.
• And speaking of rankings, there's a big countdown clock ticking down to the unveiling of the big rankings done by U.S. News and World Report on that magazine's website.
If my math is right (an "if" of gigantic proportions), we should be seeing those rankings on Sept. 12. I'll be watching with interest to see how the university fares.
• KU announced on Tuesday that street photographer and KU alumnus Gary Mark Smith had donated his collection to the Kenneth Spencer Research Library.
Smith has shot photos in 66 different countries around the globe, covering a host of world events. His collection includes not just photos, but articles, his research notes — and even his baby book.
You can check out his website here.
The fine Spencer folks will organize the collection and make it available for research.
UPDATE: I forgot to mention that you can view 25 photographs of Smith's on the second floor of Stauffer-Flint Hall as part of an exhibit called "Streetphotos in Time." They'll be up all semester.
• KU researcher Ilana Demantas has been earning some national publicity for her research that shows how jobless men are taking on more household roles as they've been affected by the slumping economy.
I think the attention is partially because of the cute term "mancession."
"They totally took what we would consider women's work and made it men's work," said study co-author Kristen Myers, an associate professor of sociology at Northern Illinois University, in an article in the U.S. News and World Report. With a female partner still in the workforce, the men "were also so grateful to have these women in their lives."
• The only way you'll be able to pass into history when I compile the Entire Heard on the Hill Collection is to submit a tip to ahyland@ljworld.com.
Copyright 2018 The Lawrence Journal-World. All rights reserved. This material may not be published, broadcast, rewritten or redistributed. We strive to uphold our values for every story published.