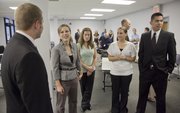 Lawrence police and city leaders Tuesday morning welcomed 13 new officer recruits — six women and seven men — and said the class would allow the department to increase the number of patrol officers in the city, once recruits complete ninth months of training.
"We have made it a point to fund this department and to make sure that you are here this morning," City Manager David Corliss told the new class shortly before they were sworn in at the department's Investigations and Training Center, 4820 Bob Billings Parkway. "I think it speaks well of this community's commitment to law enforcement. We view this not as just a position, a job, but a career."
The Lawrence City Commission recently approved four new patrol officer positions as part of its 2012 budget, and Police Chief Tarik Khatib said city leaders authorized the hiring of the 13 officers to fill the four new positions and anticipated attrition in the force by the time the new officers are ready to patrol on their own next May.
Khatib lauded the recruits and said they had a diverse background in their past work experience.
"That brings a certain kind of maturity and leadership. We have several who are leaders in different walks of life," said Khatib, who was promoted to chief in February. "All of those things prepare individuals for this type of work."
Only one recruit had past law enforcement experience and another has military law enforcement experience, but Khatib said it was common for the department to hire recruits new to the field and put them through a 24-week training academy specific to Lawrence and the department. Earlier this year he did hire six officers who had worked in other Kansas departments and put them through a six-week academy in an effort to fill positions quicker.
Members of the new class said Tuesday they were eager to get into the field.
"I think it was the closest thing I could get to without actually being in the military," said recruit Jake Burke, 28, a 2001 Lawrence High graduate who served in the U.S. Coast Guard. "We do a lot of great interaction with the community, and that's what interested me."
Ashley Johnson, 26, who grew up in Kansas City, Mo., often worked with law enforcement as a licensed social worker.
"This is something I always wanted to do," said Johnson, who earned a bachelor's degree from Kansas University and also has a master's degree in public administration. "I knew I wanted to do public service, but I was just trying to figure out how I fit into that arena."
Copyright 2018 The Lawrence Journal-World. All rights reserved. This material may not be published, broadcast, rewritten or redistributed. We strive to uphold our values for every story published.