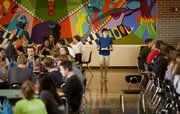 Nyle Anderson hears plenty of whispers — some louder than others — in the halls of Free State High School.
Freshmen are too small to be here.
Freshmen are too young to be here.
Freshmen are too immature to be here.
He refuses to accept such nonsense, of course, but there is one complaint Anderson can't help but acknowledge.
There are too many freshmen here.
"It is a big class of freshmen," the freshman said, sharing a crowded table at lunch with six fellow freshmen. "But it does get annoying after awhile."
The annoyances of simply being a freshman are proving to be different this year in the Lawrence school district, as such students find themselves at the bottom of the student pecking order instead of ruling what had been their proverbial roosts in junior high schools.
And by simply showing up for school, attending classes, eating lunches and leaving campuses, freshmen are making their collective presence felt among upperclassmen in a few less-than-welcome ways:
• Additional traffic. More freshmen mean more buses and, perhaps even more disruptive, more parents dropping off students before school and picking them up at day's end. Throw in plenty of roadwork along Sixth Street leading to and from Free State, plus reconstruction of a driveway behind Lawrence High, and it's no wonder drivers are frustrated.
Kelsey Van Ness, a junior at Free State, thought she was doing well to take back roads into school, but quickly discovered that her delays became even worse because so many others had turned to the same solution — even before they had arrived at the congested campus.
"Freshmen don't drive, but that means they have to have someone drive them here, so that's more cars," Van Ness said.
• Languishing lunches. More tables, revamped operational plans and even additional access points all were put in place to handle the influx of additional students in the cafeterias at the high schools, but such benefits did prove mighty unpopular on day one.
"You'd think 50 percent of the student body would know the drill in the cafeteria? We had 100 percent who didn't know what to do," said Matt Brungardt, Lawrence High principal, who figures that early backups were caused by students adding money to their lunch accounts and simply learning where to go and when.
Now the longest wait in line is eight minutes.
"Everybody's kind of learning the routine," Brungardt said. "Once everybody gets the routine down, it'll be a lot better."
• Hall congestion. Before the schools split back in 1997, Lawrence High had more than 2,200 students — well above the 1,537 on the books as of Tuesday.
Free State, which had 1,072 at this time last year, now has more than 1,500 on campus, thanks in large part to the arrival of 377 freshmen.
"I walk the halls, and I have to stiff arm people," said Trey Jones, a senior.
School and district administrators chalk up many of such complaints to early-in-the-year uncertainties, the kinds of things expected to be addressed with a few tweaks here and continued orientation sessions and messages there.
Andrew Merritt, a junior at Free State, isn't all that worried. He's in school, taking classes and moving along fine, thank you.
"There's nothing I can do about it," he said. "I'll work with what I have."
Copyright 2018 The Lawrence Journal-World. All rights reserved. This material may not be published, broadcast, rewritten or redistributed. We strive to uphold our values for every story published.