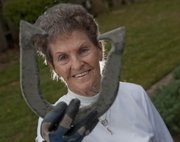 Hard work, a love of sports, an indomitable spirit and buoyant attitude helped Wynne Mihura escape childhood poverty, overcome tragedy, raise five children, operate her own hairdressing business for nearly 50 years and become a world champion horseshoe pitcher at 72. Born in Cushing, Okla., the fifth of 10 children, Mihura enjoyed working with people's hair and playing sports.
"We were very poor and could have remained in poverty, but we all were determined to get out of it," she says.
"Sport was a great outlet for us."
When Mihura was 9, her father died tragically three months before the birth of his 10th child.
"Mom was very ill and hospitalized 40 days followed by six months bed rest. Thing were different back then," she says.
"I took over cooking, cleaning and caring for my siblings."
When Mihura was a fifth-grader, the family moved to her grandfather's 10-acre farm in Ripley, Okla.
"I'm grateful grandfather gave us a good roof over our heads," she says.
Mihura played basketball and softball at Ripley High School, competing in the state basketball finals twice, in addition to working on the farm. After graduation, she worked at Bell Telephone in Stillwater for a year, then attended a college in Aurora, Ill., to get a counseling certificate.
She worked two jobs to support herself through college, returned to Oklahoma briefly, then moved to live with friends in Lawrence in 1951 and find work.
She married in 1958 and in 1962 pursued her childhood love of hairdressing. She attended Hayes School of Beauty in Kansas City six days a week for six months, then worked at Marinella, a downtown Lawrence salon, for three months.
"I left because the hours didn't work for me," she says. "I wanted to be around for my children when they needed me."
Mihura's in-laws, who were hairdressing equipment installers at the time, met an allergic hairdresser who was selling her inventory. Mihura bought the equipment,and the in-laws converted one of her bedrooms into a salon. When the city rules for in-home salon sizes changed, she moved house, took out a second mortgage and converted the double garage into a bigger salon.
She also worked the night shift at Hallmark to make ends meet and support her five children after her 1975 divorce.
"It was initially very hard, but we made survival rules," Mihura says. "My children knew they couldn't have things others had because we didn't have the money."
When she retired from Hallmark in 1992 she took up horseshoe pitching, won her first competition in 1995, then became the 2000 class "C" world champion.
"I love competition because it drives you to do better," she says.
Mihura is director of the Lawrence Horseshoe league and remains competitive. She recently pitched seven doubles in 40 shoes and frequently pitches in open competition with men at the longer 40-foot length. (Women pitch 30 feet.)
"I tell my family and friends I'll retire from hairdressing and pitching at 103 and take up running," she says with a twinkle in her eye.
Don't be surprised if she does.
Copyright 2018 The Lawrence Journal-World. All rights reserved. This material may not be published, broadcast, rewritten or redistributed. We strive to uphold our values for every story published.