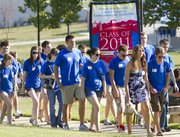 Photo Gallery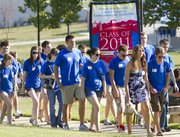 Mount Oread Scholars
About 200 incoming Kansas University Mount Oread Scholars spent Sunday morning walking up Mount Oread and learning about KU history and traditions.
The walk was also physical training for a somewhat more informally known KU condition.
"Work on those 'KU calves,'" said Heidie Grove-Tosaka, coordinator of the program.
For the past 15 years, scholars have engaged in a symbolic march up Mount Oread as a way to get acclimated to KU, Grove-Tosaka said. The scholars wore KU T-shirts with the slogan, "What goes up, must come down," in reference to the moment years from now when they'll walk down the hill to accept their degrees.
The walk, which was followed by a reception at Spencer Research Library, was beneficial to freshman Katie Ellsworth, from Mission. She'd only been to KU twice before and said she was in need of some KU historical knowledge.
"I didn't know much about KU, quite honestly," she said.
Ellsworth also had the chance to meet some of her fellow scholars, who will work together over the next few years during study groups and scholar support sessions.
To qualify for the program, incoming freshmen had to be in the top 20 percent of their high school graduating class and boast high ACT or SAT scores.
Ellsworth, a pre-med major, showed she was all about academics when asked what she's looking forward to at KU.
Partying? Tailgating? Games in the Phog?
"Just getting started on my major," Ellsworth said.
Copyright 2018 The Lawrence Journal-World. All rights reserved. This material may not be published, broadcast, rewritten or redistributed. We strive to uphold our values for every story published.