This fall, new clothing and accessory shapes are popping up all over. There has been a revival of particular styles, reintroduced and modernized, many of which are already popular among stylists and celebrities. Keep reading to discover how you can make a statement by trying one hot fall trend — the peplum.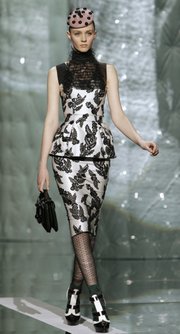 Peplum:
Years ago, I purchased my first peplum skirt at Wildman Vintage. The extra ruffle is enormous — a much-exaggerated version that definitely adds volume to my hips. Although peplum skirts were wildly popular in the '80s, the shape took a brief vacation until now. Good thing I held onto my peplum skirt. I've not worn it one time, but now I finally have the chance!
Peplum skirts have been seen on the runways at Marc Jacobs and Proenza Schouler, and they have been cited on celebrities like Beyonce, Nicole Kidman and Emma Watson. The shape holds a particular elegance, its ruffle jutting out with instant drama.
If you like the idea of wearing something peplum, there are more options than you think. Peplum ruffles are frequently attached to the top of a skirt or the bottom of a blouse; however, designers are using the embellishment on jackets and one-piece dresses, too.
Styling:
Because a peplum waist is exaggerated, it makes a bold statement that speaks for itself. Pair your peplum clothing piece with simple, fitted tops for the chicest look, and keep hair and accessories simple, too. Also, if the single ruffle is too overwhelming, look for a peplum skirt with a slit in the ruffle that sits slightly off center. This will create movement, drawing the eye gently up along the fabric. Typically, a peplum dress that is monochrome in color or made up of a single pattern will be more subtle, too.
Other peplum tips:
Although the peplum style is distinct, women have been creating similar shapes for the past few years. For an easy, DIY way to achieve a peplum shape, simply cinch a flowy top or waistcoat with a belt. Wear the top untucked over a fitted pencil skirt or skinny, high-waisted denim to highlight the contrast between the two clothing pieces.
If you are looking to purchase something peplum, heed one last piece of advice: Avoid acid-washed denim peplum skirts! It will just scream bad '80s! Opt for something more modern and ladylike instead.
Copyright 2018 The Lawrence Journal-World. All rights reserved. This material may not be published, broadcast, rewritten or redistributed. We strive to uphold our values for every story published.