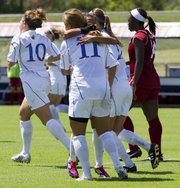 Freshman Jamie Fletcher collected two goals, and senior Kortney Clifton and sophomore Amy Grow also found the back of the net to lift Kansas University to a 4-1 soccer victory over Arkansas on Sunday afternoon at the Jayhawk Soccer Complex.
Both teams moved to 1-1.
Facing a 1-1 tie after the first half, Fletcher tallied her second goal of the match and third of the season shortly after halftime during the 47th minute. Sophomore Caroline Kastor deflected a ball in front of the goal, where Fletcher was able to get a foot on it and score to give the Jayhawks a 2-1 edge.
Twenty minutes later, the Jayhawks capitalized on another opportunity. Junior Whitney Berry used a corner kick to pass the ball to Grow, who was waiting just outside the box on the left side of the field. Grow made a quick move around her defender and then buried a shot in the opposite corner of the net from 23 yards out.
Grow aided on KU's fourth for the first multi-point game of her career. With the ball in the middle of the field, the midfielder found Clifton at the left corner of the box. After collecting the ball, Clifton fired from 14 yards out and found the back of the net to give the Jayhawks a 4-1 lead in the 77th minute.
"I thought today for the whole 90 minutes we did what we talked about doing, the game plan," KU coach Mark Francis said. "We didn't really shy away from that. I was proud of them today. We just kept battling and going at them. We didn't really let them back in the game. Those guys are a good team so for us to beat them, 4-1, I think was a great result."
Red-shirt freshman Kaitlyn Stroud played all 90 minutes at goalkeeper for Kansas to earn the win in her first career start. The Razorbacks took 17 shots, including seven on frame.
The Jayhawks outshot Arkansas 29-17.
KU will travel to the San Diego tournament Aug. 26-28. Kansas will open with USC at 7 p.m. Friday.
Copyright 2018 The Lawrence Journal-World. All rights reserved. This material may not be published, broadcast, rewritten or redistributed. We strive to uphold our values for every story published.