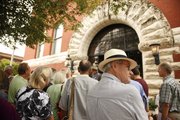 There's one legacy of William Quantrill's Raid on Lawrence that doesn't get much attention: limestone.
Walking on the 900 block of New Hampshire, amateur historian John Jewell pointed out the limestone foundations visible from the back of several Massachusetts Street buildings.
"Those were almost certainly built after the raid," Jewell said. "They rebuilt the foundations out of limestone so they couldn't be burned down again."
Details like that make getting a tour from a local history buff special. Quantrill's Raid happened 148 years ago today, and to mark the occasion about 40 people took a walking tour Saturday morning to learn how Lawrence's downtown still shows signs of the devastating attack.
The tour began in front of the Watkins Community Museum of History at 1047 Mass., with the group meandering to Eighth and Vermont streets and finishing at 10th and New Hampshire streets.
Though Jewell covered just a few square blocks, there was plenty of history on the 90-minute tour.
Jewell stopped in front of an unassuming office building at 735 Mass. It didn't look like a place where a community had regrouped after a massacre.
"This is where the Methodist Church was. People came here to claim bodies," Jewell said. "About 50 were so burned that they couldn't be identified."
Those were sent to a mass grave and later moved to Oak Hill Cemetery, at 1605 Oak Hill Ave., where there is a monument for the raid's victims.
In all, about 75 percent of Lawrence homes were burned, and 200 men and boys were killed. There were no wood or nails for the coffins, so they searched through the burned-down buildings for materials to make them.
Because of the horror of the raid, we sometimes forget both sides of the Border War committed atrocities, Jewell said.
"The more I read, the less of an angel Jim Lane looks like," he said, referring to the Lawrence historical figure.
Two years before the raid, Lane led men to Osceola, Mo., and burned most of the town to the ground.
"We talk about terrorism today, but terrorism was really rampant in northeast Kansas and northwest Missouri," he said. "I would not want either John Brown or the border ruffians knocking on my door."
Copyright 2018 The Lawrence Journal-World. All rights reserved. This material may not be published, broadcast, rewritten or redistributed. We strive to uphold our values for every story published.