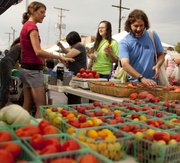 The Downtown Lawrence Farmers' Market proves the zoo isn't the only place where visitors can see hundreds of different species in one place. There's everything from broccoli to bok choy, from garlic to gooseberries.
In celebration of that diversity, Gov. Sam Brownback declared this August Kansas Farmers Market Month.
"Farmers' markets form a connection between the community and the farm," said Chris Wilson, Deputy Secretary of the Kansas Department of Agriculture.
Wilson was on hand Saturday at the market to celebrate Farmers' Market Month. In an age where many people are removed from the farming roots of the state, it's easy to forget that food does not come from the grocery store.
"It's a benefit for people to recognize food comes from the farm," Wilson said.
Wilson noted that Lawrence market is special because it is so large. There are between 60 and 70 venders on a given Saturday and around 100 who participate in the market throughout the year, said Tom Buller, marketing coordinator for the market.
Wilson also liked that while many career farmers bring in goods, there are also people who grow food on the side. Those people tend to grow unique fruits and vegetables you might not otherwise find.
According to the governor's office, there were just 27 farmers' markets in Kansas in 1987. There are now 102. For longtime advocates of local food, that growth in popularity illustrates why farmers' markets deserve their own month.
"The Department of Agriculture has been very supportive," said Mercedes Taylor-Puckett, a market coordinator.
She said various grants from the KDA have helped increase people's access to the market, such as one allowing people to use food stamps there, and another helping seniors get access to market food.
While farmers' markets have a reputation for being more expensive than the grocery store, several studies have shown that is not always the case. A study released earlier this year by a graduate student at Bard College in New York state found that for organic food, farmers' markets were cheaper than at a typical grocery store. For nonorganic-grown produce, farmers' markets beat grocery store prices for some items such as peas, cucumbers and lettuce.
"We need to correct all of those misconceptions about farmers' markets," said Taylor-Puckett.
Copyright 2018 The Lawrence Journal-World. All rights reserved. This material may not be published, broadcast, rewritten or redistributed. We strive to uphold our values for every story published.