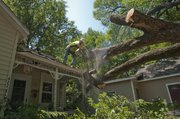 A storm that struck Douglas County on Thursday night packed winds that caused power outages — some lasting through Friday — and brought down trees and tree limbs.
More than 7,000 Westar Energy and KCP&L; customers were without power at one point after the storm, which also dropped nearly 1.5 inches of rain through Friday morning. Westar called in crews from other areas to help restore electric service. The restoration process was lengthy, and more than 300 county customers were still without power at 8 p.m. Friday evening.
Lawrence resident Emily Camin, who lives south of 23rd Street, said she spent at least 17 hours without electricity, first noticing the outage about 2 a.m. Camin, 88, said she is always prepared for short outages, but was not ready for Friday's extended issues. She said the increased difficulty of her day-to-day activity left her simply wanting more information, something she was unable to get from her power company.
"If I paid their bills the way they answer their phones," she said light-heartedly, "I don't think they'd be very happy."
The city of Lawrence's Wood Recovery and Composting Facility will be open from 10 a.m. to 4 p.m. today to accept brush or tree limbs. The cost for disposal is $5 a truckload. The facility is at 1420 E. 11th St., which is on East 11th Street, two blocks east of Haskell Avenue.
Residents can also have debris picked up during Monday's yard waste collection, if it can be put into a compostable bag or a cart.
Large limbs, up to five feet in length and 18 inches in diameter — and up to 65 pounds — can be put into bundles and placed out with regular weekly pickups.
The Lawrence school district on Friday reported that electric problems associated with the storm led to air-conditioning outages at three school buildings.
New York School experienced a partial air-conditioning outage and a total phone service outage. Broken Arrow and South Middle schools both had partial air conditioning. Students were moved to cooler parts of the buildings, and classes went on as scheduled.
But the district notified parents, using its automated phone system, that they had the option of picking up their children early.
Supt. Rick Doll said he expected repairs to be completed to the buildings before classes return on Monday.
Copyright 2018 The Lawrence Journal-World. All rights reserved. This material may not be published, broadcast, rewritten or redistributed. We strive to uphold our values for every story published.