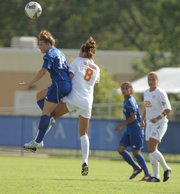 Caroline Brown's successful penalty kick in the 98th minute lifted Tennessee to a 2-1 overtime soccer victory over Kansas University on Friday afternoon at the Jayhawk Soccer Complex in the season-opener for both teams.
It marked the first time the Jayhawks have dropped an overtime decision in their home-opener since 2007 when they fell 1-0 to BYU, also on a penalty kick.
The Jayhawks had a decided advantage in the first 15 minutes, collecting six of the first seven shots. KU's sixth attempt found the back of the net when junior Whitney Berry hit freshman Jamie Fletcher just outside the box. Fletcher finished with her left foot for the first goal of her career in the 14th minute.
Tennessee answered with a bad break off a KU defender in the 33rd minute. After Brown beat her defender to the near corner, she tried to send a ball back to the middle of the box.
However, the ball deflected into the net off a Jayhawk defender, who was marking on the play, tying the score at 1.
After a scoreless second half in which both teams had golden opportunities to net the go-ahead tally, the Vols won the game on Brown's penalty kick.
The PK was set up after Tennessee's Chelsea Hatcher got tangled with a Kansas defender on the far side of the box resulting in a Jayhawk foul.
Kansas goalkeeper Kat Liebetrau made four saves, including three in the first half.
The Jayhawks held a slight 15-14 edge in shots and a 7-6 advantage in shots on goal.
Fletcher led the KU attack with five shots, including four on goal, while Berry chipped in four shots and the lone assist.
Kansas will look to bounce back Sunday when it plays host to Arkansas at 1 p.m. at the Jayhawk Soccer Complex.
"One of the biggest things is we have to rest up," KU coach Mark Francis said. "We have to make sure we refuel because we expended a lot of energy today. Arkansas has a game tonight, so they have to travel, and we have to take advantage of having a home game on a Sunday. That's huge because they can sleep in a little, they don't have to travel tomorrow and they can rest. We just need to come out on Sunday and show some resolve.
"This time of year, a 1-1 record is a lot different than an 0-2 record, so I think Sunday is very important. Arkansas is a good team and they're in a very competitive conference. It'll be a lot like today. It'll be a tough game, and we need to come out and show the same commitment we showed today."
Copyright 2017 The Lawrence Journal-World. All rights reserved. This material may not be published, broadcast, rewritten or redistributed. We strive to uphold our values for every story published.