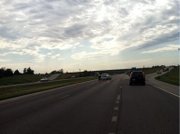 A 22-year-old Overland Park man was transported to Overland Park Regional Medical Center Saturday afternoon after sustaining injuries in an accident on Kansas Highway 10.
According to a report from the Kansas Highway Patrol, the accident occurred when the man, identified as William Casey Miller, drifted off to the inside shoulder in the westbound lane of the highway. His vehicle struck the guardrail, causing Miller to lose control. He then struck the outside bridge rail before his vehicle rolled, eventually coming to rest on its wheels.
The accident, which occurred about 4:20 p.m. near the bridge over Lexington Avenue in Johnson County, shut down traffic in the area. The vehicle sustained moderate damage and the driver's injuries were not believed to be life threatening.
A condition update for Miller was not available Saturday night.
Copyright 2018 The Lawrence Journal-World. All rights reserved. This material may not be published, broadcast, rewritten or redistributed. We strive to uphold our values for every story published.