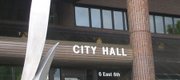 Subscribe to the email edition of Town Talk and we'll deliver you the latest city news and notes every weekday at noon.
News and notes from around town:
• If you were out and about Thursday night and thought that East Lawrence had a different glow about it, you may have been right. At least part of the neighborhood did. Three new neon signs have been installed at the Santa Fe Depot at Seventh and New Jersey streets. If you remember, the signs were a hot topic of discussion about this time last year. That's because one of the signs was hot, as in stolen. In what we called the Great Train Station Robbery, somebody got up on the building and took one of the long blue signs that says "Lawrence" right off the roof. A day after the article appeared in the J-W, the sign appeared in Martin Park in a Christmas tree box with a note that wished a Merry Christmas and was "signed" by KU men's basketball Coach Bill Self. Well, that sign wasn't able to be restored, said Carey Maynard-Moody, a leader of the Depot Redux citizens group that is trying to restore the 1950s-era building. So Amtrak has had replicas of the two Lawrence signs made. (There are two Lawrence signs. One on each end of the building.) Amtrak also had a third sign made. It replaces an old Santa Fe sign that hung over the front door to the depot. The new sign, though, reads Amtrak, instead of Santa Fe. But to satisfy historical requirements, the new sign is in the same style as the Santa Fe sign.
• A blue neon glow isn't the only thing that has returned to the depot. Debate about whether the city ought to take over ownership of the building is also likely to return. City and depot leaders have confirmed to me that Amtrak has made an offer to pay for about $140,000 worth of ADA improvements that must be made to the inside of the station, which is still owned by Burlington Northern Santa Fe. But Amtrak's offer is contingent upon the city taking over ownership of the building. Those ADA improvements have been a significant concern for city commissioners as they have considered purchasing the station from Santa Fe so that the building could be restored. Amtrak's offer would take care of all the ADA work needed at the station, including new bathrooms, entrances, water fountains and other such items. Amtrak already is working on a several hundred thousand dollar project — funded by stimulus money — to rebuild the exterior platform to conform with ADA requirements. But there would be plenty of other costs for the city to pick up. The city estimates there may be another $475,000 worth of roof repairs, HVAC replacements and other building maintenance issues that would have to be done fairly soon to protect the building. On top of that, there are probably another $900,000 worth of phase II improvements that are less pressing. The city has long said it doesn't have money in its budget to do the repairs, but it has applied for grants. But because the city doesn't own the building, winning a grant to restore it has been difficult. The question city commissioners have struggled with is whether they should take over ownership of the building before they know they have a guaranteed funding source for improvements. (Santa Fe will sell the building for a dollar, but there are other conditions attached to that.) Thus far, the answer has been no. We'll see whether Amtrak's latest offer changes any minds. Look for the issue on a City Commission agenda in the next few weeks.
• From trains to automobiles. Just how many potholes are there on Lawrence streets? What would you say if I told you that there were 8,870 of them during the first six months of 2011? That's how many the city says there were, and city leaders said that's actually good news. The city fixed 8,870 potholes during the first six months of the year, and they're on pace to deal with 17,740 potholes for the full year. That's about a 42 percent reduction in the number of potholes they found and fixed compared to 2010. I know what you cynics are thinking — there's still as many potholes but the city just isn't fixing them. There's data out there that suggests you're wrong. The city also tracks the number of calls it receives on its Pothole Hotline (832-3456). Those numbers also are way down — by about 72 percent — from the same time period a year ago. City leaders say their emphasis on street maintenance and rebuilding several roads is starting to show up in the numbers. Plus, weather — particularly how nasty the freeze-thaw cycle is — will cause the numbers to fluctuate.
• Downtown is not the only place that can throw a party. The businesses out at Sixth and Wakarusa are banding together to throw a KU football bash on Sept. 1. The Salty Iguana, Famous Dave's BBQ and McDonald's all will be serving food and hosting an event that will include the KU Pep Band, speakers, music and games. The Salty Iguana also will be serving alcoholic beverages at the outdoor event. City commissioners are scheduled to approve the event at their Tuesday evening meeting. The party would run from 5 p.m. to 11 p.m.
• Perhaps downtown partiers heard of this West Lawrence event and began to panic that their reputation as Partiers in Chief was in jeopardy. Not to worry, though, the folks at the Sandbar came up with something. They're proposing to close Eighth Street in front of their bar to celebrate — wait for it — the halfway point to St. Patrick's Day. (I can imagine the genesis of this idea now. Downtown's Party Committee nervously gathered around a table, which looked conspicuously like a bar. They drank water that smelled conspicuously like rum. They fretted. They wondered what else could they do. "We've already thrown shot puts in the middle of the street," someone pointed out. Javelins were mentioned, but quickly dismissed. Then someone who had partaken in several glasses of water yelled "Half St. Patrick's Day, Half St. Patrick's Day." Then everybody celebrated with half pinches.) Anyway, the event will be from 1 p.m. to 12 a.m. on Sept. 17 in the 100 block of East Eighth Street. Organizers have told the city that the event also will serve as a fundraiser for a local charity. City commissioners are scheduled to give final approval to the event, which will include closing that section of street, at their Tuesday meeting.
Copyright 2018 The Lawrence Journal-World. All rights reserved. This material may not be published, broadcast, rewritten or redistributed. We strive to uphold our values for every story published.