Photo Gallery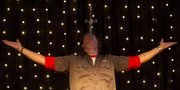 Busker Festival Preview Show
Performers from this coming weekend's Busker Festival put on a show Thursday evening to benefit Big Brothers Big Sisters of Douglas County.
Amid the twirling and the juggling, the singing and the sword swallowing, Lawrence residents gathered Thursday evening to help kick off the annual Busker Festival.
The first-ever Preview Show for the weekend of performing arts took place under the lights at Abe and Jake's Landing, 8 E. Sixth St. The event, proceeds from which benefit Big Brothers Big Sisters of Douglas County, showcased some of the best buskers, or street performers, the festival has to offer.
Richard Renner, who started the downtown extravaganza four years ago, said the idea came to him from personal experiences.
"I've been a street performer myself," he said. "I recognized that downtown Lawrence had a great possibility for that."
For several hours Thursday, performers — mostly from outside the state — drew applause and jeers from the few dozen in attendance. Buskers performed acrobatics, magic tricks and a few dangerous acts all to entertain and engage the crowd. Mike Rundle, who's housing a busker for the weekend, said he was looking forward to what the weekend might hold and acknowledged the draw of Thursday's event.
"It's just a really cool way to get your appetite ready," he said following the show.
Starting this evening, performers will take to Massachusetts Street with their various skills and props, complete with hats meant for tips. For Renner, it means more than six months of planning finally comes to an end.
"I just sit back and watch people enjoy it," Renner said. "It's usually at that point I know I'm going to do it again."
The Busker Festival will last through the weekend, starting today and finishing Sunday evening. This year's performers will eat fire, show off feats of strength and magic, practice tricky escapes and do it all with a downtown backdrop and various musical acts. Renner said that with the festival now benefitting an area agency, it's got something for everyone.
"We wanted to make it more of a community event than just a downtown event," he said. "I'm really proud of the people we have here."
Copyright 2018 The Lawrence Journal-World. All rights reserved. This material may not be published, broadcast, rewritten or redistributed. We strive to uphold our values for every story published.