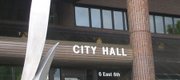 Subscribe to the email edition of Town Talk and we'll deliver you the latest city news and notes every weekday at noon.
News and notes from around town:
• More news for my elastic waistband. Homemade ice cream from fresh cream that comes from just up the road sounds fantastic. It also is sounding more and more like the newest business to come onto Lawrence's retail scene. Tecumseh-based Iwig Family Dairy currently is looking for a space to open a Lawrence retail store. Iwig general manager Collin Billau told me the store would not only sell Iwig's glass-bottled milk, but also would sell ice cream that it makes at the dairy. Plus, the store would have jams, jellies, salsas, granola, farm-fresh eggs, and in-season produce from farmers around the area. So, in other words, it is kind of like a farmer's market that is open everyday. Iwig has been selling its milk in Lawrence for several years at local grocery stores. But recently it has been selling milk at the Thursday farmers' market at Cottin's Hardware. Seeing Lawrence consumers up close has convinced dairy leaders that Lawrence is definitely their type of town.
"I think our growth could be exponential in Lawrence," Billau said. "The consumer attitude for this live-local type of philosophy is pretty strong in Lawrence."
Billau said the company would like to secure a spot by the end of this month so that it could open in the fall. He said that the former Joe's Bakery location near Ninth and Mississippi is high on their list, but he's uncertain whether a deal can be struck since the building only is for sale and not for lease. The company also is looking at the 12th and Connecticut area and the 19th and Mass. area. Don't look for the store, though, in a downtown Massachusetts Street location. Billau said the company has researched the market and found that even though there is much talk about the need for a grocery-oriented downtown business that such a venture is tough to make pencil out.
Iwig — in addition to its on-farm store along Tecumseh Road — has a retail location in Topeka on Gage Boulevard. It has been part of the company's growth since it started bottling its own milk again in 2004. The dairy has been in the Iwig family since 1910, and it once bottled its own milk in the 1950s and 1960s. But in the early 2000s the dairy made a big bet that consumers were ready to start drinking fresh milk out of old glass bottles again. The dairy started off with white and chocolate milk, but now they also have strawberry, orange cream, cookies and cream, root beer, banana-flavored, raspberry, and a coffee-flavored milk is on the way. I can't imagine how jumpy those cows get drinking all that coffee.
• The food market business is an active one in Lawrence right now. Of course there are the expansions going on at Dillons and Hy-Vee, but there is also the new project by Natural Grocers. Despite having written about the project a few times, I'm still getting questions about what is being built where the Burger King used to be at 23rd and Naismith. Well, it is a national organic food and vitamin supplement chain called Natural Grocers by Vitamin Cottage. I mention this again to catch people up who have taken a nap during the summer, and also because there's a little bit of new action at the site. The project has qualified for a state-program to improve traffic flow on 23rd Street by reducing or reconfiguring business driveways along the road. Currently there are three driveways along 23rd Street for the Natural Grocers site and the adjacent Party America site to the west. The new project will require the driveway for the Natural Grocers and the eastern-most driveway for the Party America store to become "three-quarter driveways." That means the drives will be built in such a way that left-turns onto 23rd Street will be prohibited. Accident data shows that turning movement has been a risky one at that location. The western-most driveway for Party America will continue to allow left-turns onto 23rd Street. That driveway also will be widened to allow it to handle more vehicles under the new configuration. The total project will cost $75,000. Natural Grocers will pay for $25,000. The state will pay for $37,500, and the city will pay for $12,500. If project costs float higher, Natural Grocers will pick up the difference.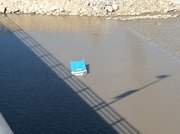 • Speaking of floating, have you seen the newest addition to the Kansas River? Drivers over the Kaw's Mass. Street bridge in downtown may have noticed a blue box in the water just east of the bridge. No, that's not new fish habitat. (Definitely throw those fish back.) It is a portable toilet that evidently was being used on the adjacent job site where crews are building a new hydroelectric power plant for the Bowersock Mills & Power Co. The Porta-Potty has been in the river for several days now. Apparently vandals or something caused the Johnny-on-the-Spot to get dumped. We're assuming there is no Johnny or Ted or Bill inside. No word yet on when it will be removed.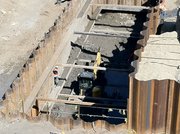 While I was investigating the Porta-Potty (you don't want to admit to doing that very often), I did take some pictures of the construction project underway. The Bowersock plant is the largest construction project of the year in the city, at a little more $20 million. It looks it. That is one deep hole they are digging over there. I have a call into Bowersock's leader so she can give us an update on how the project is coming along.
Copyright 2018 The Lawrence Journal-World. All rights reserved. This material may not be published, broadcast, rewritten or redistributed. We strive to uphold our values for every story published.