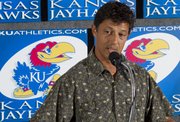 In 2010, the Kansas University soccer team struggled mightily to put the ball in the back of the net.
The Jayhawks scored just five goals in 10 Big 12 Conference games and slumped to a 1-9 league record and a lackluster 6-13 overall record.
But with 11 newcomers, including two Colombian players who played in the FIFA Women's World Cup this summer, coach Mark Francis seemed rather optimistic about his squad during Wednesday's fall Olympic sports media day.
"It was very disappointing coming off of last season. That's the bad news," Francis said. "The good news is that we have a brand-new team."
KU starts its season against Tennessee at 5 p.m. Friday at the Jayhawk Soccer Complex. The Jayhawks lost an exhibition match to Butler, 3-2, Sunday.
One of the foundations of Francis' optimism is the team's depth of quality attacking players. Senior Kortney Clifton, junior Whitney Berry and sophomore Caroline Kastor scored 10 of the Jayhawks' 17 goals last season.
Freshman midfielder Liana Salazar and freshman forward Ingrid Vidal have the experience of playing with the Colombian national team on the world's biggest stage.
Salazar played in two matches in Germany and started against the United States. She enrolled at KU in the spring and picked up four assists and a goal in the spring season.
Francis discovered Vidal after traveling to Colombia in February to watch Salazar and her team train for the World Cup.
There was a bit of a scramble to obtain visas for the players, but Francis knows that the two will see their share of minutes.
"To be that young and be able to get out in the field and play in that kind of event, it was a great experience for them," Francis said. "I think that's going to help us. We're going to be in some big games this year. I think those two guys, we expect them to be on the field."
Clifton said playing with Vidal and Salazar is extremely fun.
"They're very quick. They're very tactical-minded," Clifton said.
Berry has noticed their excitement and focus on playing well.
"I think the attack is for sure our strong point this year," Berry said.
The Jayhawks lost three of their four starters on defense, so Francis has focused on the defense in preseason training.
And there isn't much time for the new defenders to learn — Francis said the team's non-conference schedule is very tough.
"We do scheduling so far in advance that if I would've known we would be this young, I probably would've made it a little easier," Francis said.
Two goalkeepers, junior Kat Liebetrau and red-shirt freshman Kaitlyn Stroud, are battling for the starting spot.
Wednesday morning, Francis had a 45-minute talk with his coaching staff solely about the position. Not much was decided, as Francis still doesn't know who will start against Tennessee.
Even with so much youth dotting the field — seven newcomers started in Sunday's match against Butler — Francis expects his team to get off to a hot start.
He knows fans enjoyed the United States' run in the World Cup and he hopes that increased interest in women's soccer produces some bigger home crowds.
But Francis also knows that fans don't show up for losing teams.
"Hopefully we'll win and get some people out there," Francis said.
Copyright 2017 The Lawrence Journal-World. All rights reserved. This material may not be published, broadcast, rewritten or redistributed. We strive to uphold our values for every story published.