KU student gets Tim Pawlenty to help him out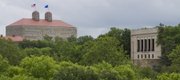 Subscribe to the email edition of Heard on the Hill and we'll deliver you the latest KU news and notes every weekday at noon.
Your daily dose of news, notes and links from around Kansas University.
• Though several folks likely spotted Tim Pawlenty at the Mad Greek on Monday as he was in town to drop off his daughter at KU, one particular KU student did something a little unusual.
Bryan Reynolds walked up to the former Minnesota governor and former GOP candidate for president with his iPhone in hand. He held it out, and asked Pawlenty to say something "hip" that would help him get a job in the media.
I asked Reynolds if he would mind sharing the results with all of us. Sure, Reynolds said, as long as I would put in a plug for his radio show. I told him, no, absolutely not. I have standards, and there was just no way that I would be able to mention that people can catch him doing a political radio show on KJHK at 7 p.m. on Wednesdays called "Talk of the Hill." But Reynolds, being a good chap, agreed to send me the sound bite anyway. And so, I'm passing it along to you. Pawlenty was apparently a pretty good sport about all this, and the results are pretty amusing, if you ask me.
• In reading over some of the coverage from the Kansas Board of Regents retreat down in Pittsburg, one thing in particular seemed to jump out at me. It was the chancellor echoing some of the stuff she's said before about the effects of state budget cuts.
Here's a snippet from awesome colleague Scott Rothschild's story:
"We have lost ground with faculty (pay) in the last three years," said Kansas University Chancellor Bernadette Gray-Little.She said faculty salaries at KU are below that of peer universities, and KU is starting to lose some of its best professors to other schools that provide better offers. She said when KU fails to retain a star researcher it also loses research grants that person brings in, plus the investments that KU made."
I'd heard similar sentiments before. But this always gets me thinking — just who are some of these "best professors" that we're losing? KU won't tell me. Being the inquisitive sort that I am, I asked why that was.
A KU spokesman replied: "One issue is that of the privacy of the faculty members. Plus, it would put us at a competitive disadvantage if we were to release the names of people who were recruited away, or names of those who were recruited but successfully retained. Such a list would be a roadmap for other institutions to recruit more of our talented faculty members away from KU."
Even though KU officials have talked publicly about such things before, they're apparently loathe to do so now. While I have no strong desire to violate people's basic privacy rights or contribute to faculty members fleeing the university in droves, I'm not sure — particularly in the case of identifying people who have already left KU — if that would have that effect.
So I'm left to ask my wonderful Heard on the Hill folks to let me know if you know of any faculty members who have left KU for another university. If those who are leaving truly are among the best faculty members here, I would think identifying them would bolster the administration's argument for more funding for faculty raises.
• The annual KU faculty and staff directories have arrived on campus, a little earlier than usual. They're being delivered in August instead of October this year, to coincide with the beginning of the school year. The books are a little slimmer this year, too. Gone are the individual listings for KU Medical Center faculty and staff. They've got yellow pages and coupons, too. Copies are available from University Relations, and soon will be stacked in the Kansas Union and the Strong Hall rotunda. The cover has a nice photo of Baby Jay to commemorate her 40th anniversary. And who doesn't love Baby Jay?
• Given that I just picked up my brand new KU directory, it's time for me to participate in that time-honored Heard on the Hill tradition of randomly pointing to a name and asking that person to submit a tip. So let's do this, Wade Garrison, assistant librarian. Tell me something I don't already know at ahyland@ljworld.com. Peace out.
Copyright 2018 The Lawrence Journal-World. All rights reserved. This material may not be published, broadcast, rewritten or redistributed. We strive to uphold our values for every story published.