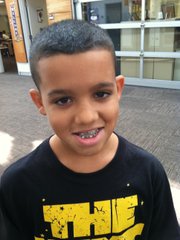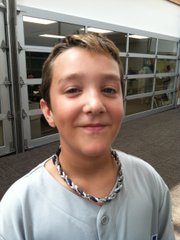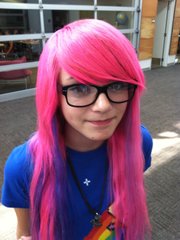 Anton Bratton cracks a grin, confident he's not the youngest guy in school.
Cameron Stussie's got his own digits down — having already memorized his locker number, location and combination.
And Kansas Gibler? The seventh-grader managed to shake off her jitters, moving from door to overhead-glass door at South Middle School.
"Since it's the first day, I've been kind of nervous," Kansas said, clutching her printed schedule Wednesday afternoon. "I was just in the wrong classroom — but that's my next class. I was supposed to be across the hall."
Such sentiments and minor stumbles weren't all that uncommon Wednesday, even if the students' collective standing in the Cougars' pecking order certainly was.
The 196 seventh-graders who participated in orientation at South — plus hundreds of others enrolled at Liberty Memorial Central, Southwest and West — literally are putting the "middle" in middle schools this year.
With the Lawrence school district's four former junior highs having switched from a 7-8-9 format to the new 6-7-8 configuration, Kansas and her classmates aren't the same "sevies" as their predecessors. No need to fear being the youngest in the school, or being intimidated by roaming the halls with students two classes their senior.
They're squarely in the middle, taking over a hall previously reserved for eighth-graders.
"It's cool," said Cameron, who finds the middle position comfortable. "I know some people in eighth grade and some people in sixth grade, so I can kind of help out the sixth-graders and let the eighth-graders help me out a little."
Still, he said, "it's better than being at the bottom — a lot better."
All students in middle school have plenty to learn, both in academics and about themselves, said Will Fernandez, principal at South. Seventh-graders, beginning this year, just happen to be "in the middle" at South and elsewhere in a district full of changes.
"They're adolescents," Fernandez said. "They're right in the middle of role confusion. They don't know what they want to do. They don't know what they're going to be. …
"They are in the middle, so how they act and how they react is still to be determined. This is all brand new."
Anton, for one, is taking the transition from Broken Arrow School next door in stride. He just turned 12 on Saturday and is relieved not to be the youngest guy on campus.
"It's better than being a sixth-grader," he said, admitting that he's struggling a bit remembering his locker combination. "It kind of feels like it's easier — not easier, but more fun."
Anton and his classmates spent Wednesday learning about the school's operations, history and traditions.
They'll be starting actual class Thursday, joining all other students in the district.
Copyright 2018 The Lawrence Journal-World. All rights reserved. This material may not be published, broadcast, rewritten or redistributed. We strive to uphold our values for every story published.