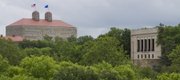 Subscribe to the email edition of Heard on the Hill and we'll deliver you the latest KU news and notes every weekday at noon.
Your daily dose of news, notes and links from around Kansas University.
• Ah … students are returning. That's good news for just about everyone on campus, but it's particularly good news for campus bookstores.
James Rourke, assistant director of the KU Bookstores, told me that the store typically does over half its business for the year in these crunch periods when students return right before class during the fall and spring semesters.
And, because we love videos here at LJWorld.com, I made a video commemorating the occasion for you to enjoy.
• Another thing I spotted when I was wandering around on campus on Tuesday was that KU apparently has a capoeira club.
If you needed a little help with what exactly "capoeira" was, you and I were in the same boat.
The Brazilian art form apparently is a mish-mash of many different things, including martial arts, sports and music, according to WikiPedia, the great knower of all things.
Lawrence.com wrote about KU's club back in 2005.
According to that article, the activity (sport?) has made an appearance in a movie or two, including in "Meet the Fockers," where Dustin Hoffman's character explains it this way:
"This is capoeira, man. This is some hard-core (expletive)."
• KU's Public Management Center is sponsoring an Emerging Leaders Academy at the university this fall.
The program will begin in early September, and will run through January. Participants will meet in Lawrence on 10 Fridays during that period.
The program is designed for non-managerial staff at KU and other public sector agencies who have the capacity to become leaders in their departments or organizations.
The tuition for the program is $1,000, and $750 for KU staff members. An application and more details are available at http://www.kupmc.org/.
• If you ever find yourself in need of some hard-core (expletive), you can always come over here to Heard on the Hill. And even if you don't, you should send me a tip at ahyland@ljworld.com anyway.
Copyright 2018 The Lawrence Journal-World. All rights reserved. This material may not be published, broadcast, rewritten or redistributed. We strive to uphold our values for every story published.