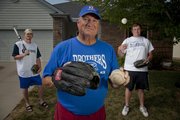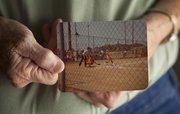 Imogene Kilgore has been playing recreational sports for 52 years. Her sister, Mary Jo Elston, has been at it about 40 years.
To those playing sports with Lawrence Parks & Recreation — especially softball and volleyball — the sisters are a staple. Always there playing and coaching, shining examples of lifetime fitness. But even they weren't born with catcher's mitts in their hands.
Kilgore fell in love with organized sports as a child and played in high school before starting recreational fast-pitch softball as a 22-year-old.
"They used to have a team in North Lawrence called the Sandrats," Kilgore says. "I used to go over there and watch them when I was a kid. And I told my mom, I said, 'I'm going to be playing ball some day when I get old enough.'"
Now she plays not only softball, but volleyball, and she bowls, too, just like her sister, Elston. Though Elston started playing much later, after she'd had five kids. Once her children were old enough to entertain themselves, she got some "mom time" and also tapped into her competitive nature.
"Competition and just being around other people who like the same thing you do," Elston says for why she keeps playing and coaching. "It's fun."
But the women aren't just examples of lifetime fitness, their stories go right to the heart of why we, as a people, play sports. Sports, say our experts, fulfill a few basic human wants — social, emotional, competitive and physical.
"I think the camaraderie, the social aspect of it, the fun, the challenge, the newness of an activity that maybe they've never played before, being with friends," says Lee Ice, the youth sports supervisor for Lawrence Parks & Rec, of why kids play. "The bottom line with anything that kids do today and really forever, if it's not any fun, they're not going to do it."
And it's the same thing for the adults like Elston and Kilgore, says adult sports supervisor Bob Stanclift, though he thinks that for adults, the social aspect often gets top billing.
"I think for some people it's the reward, both physical and mental rewards of being active and staying active," Stanclift says. "But I can't stress enough that I feel the social interaction and the involvement of being on a team ... not only benefits people but people also enjoy (them). If you're around any of our adult sports, especially any of our outdoor adult sports, the social interaction and the social activity before the game and after the game, it seems to be more important for quite a few, not everybody, than the game itself. I think that's very healthy for people."
Megan Harrity is a counseling and sport psychologist for Kansas University Athletics. She says that sports cannot only be an outlet for one's life outside of school or work, but being involved also means building positive values.
"A lot of young people can overcome anxiety and shyness by becoming part of a team and having that experience, just outside of their classroom experience or their everyday life," she says. "I think, too, in terms of building positive values (sports help with) learning teamwork, effort, achievement, persistence, learning life skills like goal-setting, positive thinking, problem solving."
Bernie Kish, director of university facilities for Health Sport & Exercise Science at KU, agrees, but notes he thinks teamwork is the most valuable lifetime skill to be gleaned from sports.
"I think the most important thing that it teaches is that the team is more important than the individual. That you have to sacrifice your own individual goals and likes sometimes in order to achieve the team goals," he says.
The notion of teamwork in the real world also touches on an alternate notion sports often teach us — not everyone can be on a team. Harrity points out that recreational sports seem to be shifting away from the "everybody gets a ribbon" movement and back to the more retro idea of tryouts and occasional disappointment. She notes this method imitates life a bit more — yet another reason we're attracted to competing.
"I think kids need to learn how to deal with failure as they're growing up," she says. "And that's one way that they have the opportunity to cope with letdowns."
Bob Case has had his share of highs and lows during his 40-year career in the Lawrence rec softball league. But, he says, there's a reason he keeps coming back, and it might be more simple than just a mix of competition, camaraderie and socializing. His answer is basic: He plays to do his best and have fun.
"All along, you just decide that as long as it's still fun, well, shoot, you'll still play. And that's why we play," says Case, 58. "We start out trying out, being competitive and wanting to win like everybody does, but over the years, it's more like if we can still be competitive and have fun, we'll continue to play."
Copyright 2018 The Lawrence Journal-World. All rights reserved. This material may not be published, broadcast, rewritten or redistributed. We strive to uphold our values for every story published.