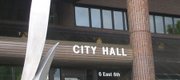 Subscribe to the email edition of Town Talk and we'll deliver you the latest city news and notes every weekday at noon.
News and notes from around town:
• While the old-time candy shop of Penny Annie's is no more at the corner of Ninth and Mass., the intersection may still end up having an old-time feel nonetheless. It sounds like the place will become a shop that sells rare books, vintage bicycles, normal coffee, and perhaps doughnuts. (If that last part is true, I'm becoming more convinced that City Hall has a secret strategy to solve its budget challenges by selling certain downtown employees by the pound. Think about it: Two cupcake places, two new Mexican restaurants and now perhaps doughnuts.) Multiple people have told me that the folks at The Dusty Bookshelf are involved with the new venture, but so are some other local business people. I've noticed that there is a For Rent sign in the Lawrence Re-Cyclery at 731 N.H., so I don't know if that shop is involved in the deal or not. I'll call around and let you know what I find out. But if all this is correct, the place sounds funky. When it comes to Downtown Lawrence, that's the original old school.
• Speaking of downtown, I had a prominent landlord in the area get in touch with me recently. She wanted to know if I could ask all of you a question about what type of businesses you would like to see downtown. There are several vacancies to fill. You know, one idea I have heard come up from time to time — even from people at City Hall — is the idea of a large movie theater. Obviously, there is Liberty Hall already, but I think these folks were talking about something like Southwind that exists on South Iowa Street. What do you think? Would that be a positive for downtown? Generating nighttime traffic hasn't been a problem for downtown, but perhaps a movie theater would change the crowd some. Tell me your thoughts on that and what else you would like to see. Just leave your comments on the board below. Get out your Downtown Lawrence crown, and be king for a day.
• Not far from downtown there is a major redevelopment project brewing. As we have reported before, a Kansas City area development group is working to convert the Poehler building at 619 E. Eighth St. into 49 units of affordable rental housing. As we've also reported before, the project will be asking for some public assistance. It already is in a special district that will qualify it for some property tax rebates, and City Manager David Corliss has included money in the 2012 budget to rebuild Delaware Street from Eighth to Ninth streets. (Rebuild probably isn't the right word. That block of street really doesn't exist today. It basically is a dirt-path alley.) But it also looks like the city is going to give serious consideration to building a public parking lot in the area. The lot would be just south of the Poehler building along the new street. That would be unusual, given that the city hasn't really gotten into the public parking businesses outside of downtown proper. (It owns parking lots outside of downtown, but usually they are next to a park or some other city facility.) But Corliss said the city's participation — if it is approved by city commissioners — would be a sign of how much potential city leaders believe this project has. It could be a spark to improve the whole area near Eighth and Pennsylvania streets, which has several neat old industrial buildings. Corliss told me that the street will cost the city about $750,000 and the parking lot will be around $200,000. Corliss has alerted the commission that the project also may ask for city help in installing a fire sprinkler in the building. City commissioner are slated to pass a resolution Tuesday to lay the groundwork for issuing debt for the project.

I will be interested to see how quickly the city acts on the incentives for this project compared to a couple of other downtown projects. In particular, Doug Compton's projects to rehabilitate the old Masonic Temple building and his project to build a new multi-story building at Ninth and New Hampshire. Compton and local caterer Steve Maceli want to put the building in a special district to receive property tax rebates for new construction that occurs at the temple building. (That's the same type of property tax rebate the Poehler building also hopes to use.) The temple project also is seeking help with installing a fire sprinkler system in the building. (Ditto for the Poehler.) What Compton's project is not asking for is $750,000 in road improvements. It also is different, however, in that the end use would be as a banquet hall rather than affordable rental housing. Compton made his request to the city in April.
On the Ninth and New Hampshire project, Compton is seeking $280,000 in city money to help pay for sidewalks, sewers, streetlights and other public improvements around his seven-story apartment, office and retail building that currently is under construction. That building is in a special district that allows the city to collect a greater share of property taxes from the development. The developers are seeking the $280,000 in assistance given that fact. The project also wants help on parking. Originally it was asking for 65 reserved parking spaces in the public parking garage that is immediately adjacent to the project. It was willing to pay for the spaces, but at a reduced rate. Now, it has become clear to Compton's group that plan won't fly with commissioners so it has dropped the request for reserved spaces in the garage, which city studies have shown has quite a bit of capacity. Compton's group now just wants to buy normal parking passes for the garage — the same kind available to the general public — although they would like a discount. City Hall staff members have recommended against that. Instead, they said the development group should pay full price. Compton made his request to the city in November, and city commissioners have yet to take the issue up in any meaningful way.
So, to summarize, the Poehler building seems to have city staff support for about $1 million worth of direct public spending, including a new public parking lot that will serve the building. Compton's approximately $10 million project downtown — which most everybody agrees promotes the city goal of providing more opportunities for people to live downtown — is moving more slowly despite it having a lesser price tag. The projects obviously are different, and there may be good reasons for the difference in pace. I'm not trying to say anything other than public incentives are becoming a much bigger part of the development scene, and it will be interesting to watch how commissioners decide where to put public money and how consistent they are in their rationale.
Copyright 2018 The Lawrence Journal-World. All rights reserved. This material may not be published, broadcast, rewritten or redistributed. We strive to uphold our values for every story published.