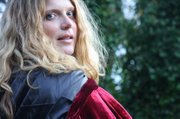 "I've always loved to sing, even at a young age," says international singer-songwriter Ashley Davis.
"Since I couldn't sing like the females on pop radio I never considered it a feasible career. Then in my early teens, I discovered country music and thought I might possibly make a living from singing."
She sang at St. John's School, but her powerful gift wasn't fully unleashed until she sang solo at a West Junior High School concert.
"I belted out 'To Know Him is to Love Him.' My parents and the audience were totally shocked," she says.
At home later, her astonished parents (Jacqueline Davis, then Lied Center director, and Mike Davis, Kansas University law professor) sat her in the kitchen and promised they'd do everything possible to support her developing voice.
She performed regularly at Lawrence High School, Kansas and Missouri venues, and with country bands at the Shiloh (now the Roadhouse.)
"One of my parents traveled with me until I was 17 and able to drive," Davis says. "Then they'd often meet me at a venue. They rarely missed a performance."
Christmas 1996 marked a pivotal point in her life.
"My parents gave me a guitar," she says. "They said I needed the best possible tools to get to the top of my profession. It confirmed their commitment to fully support my talent and career choice."
Later, while listening to a Connie Dover CD, something stirred deep in her soul.
"It felt like coming home," Davis says.
"I wanted to sing like Connie and make people feel as she made me feel when I sang. That's when I started singing Celtic music."
Davis went to Belmont College, Nashville, in 1994 to study business and music, but she changed to English because she knew she'd need it for her songwriting career. She graduated with a Bachelor of Arts in 1998, and despite worldwide competition for limited places, was accepted for a Master of Arts in traditional music at University of Limerick, Ireland. She graduated in 2002 and received a 12-month contract to sing with Michael Flatley's "Lord of the Dance" in Las Vegas.
She worked as a copywriter for a New York publishing company to support her songwriting and singing career, and was invited to become artist in residence in the Isle of Man. She fell in love with the place, people, music and the Manx language.
"I've included a song in Manx on all of my albums since, in addition to Irish and Scottish Gaelic ones," Davis says.
"I love taking people to another place and time with my music and stories."
She met her husband, Frank, in New York and returned to Lawrence after marrying in Ireland in 2009. She's presently working on a Celtic Christmas album, touring the country and slated to sing alongside some of Ireland's top performers at Kansas City's Irish Fest next month.
"Songwriting feeds my intellectual side. Performing feeds my creative side," she says. "I'm glad to be back in Kansas where people are so warm and welcoming. It's a homecoming of a different sort for me."
Copyright 2018 The Lawrence Journal-World. All rights reserved. This material may not be published, broadcast, rewritten or redistributed. We strive to uphold our values for every story published.