A pleat is a pleat, right? Wrong. Pleats are a construction tool that can lead to incredible elegance in a garment; however, for fall 2011, not just any old pleat will do.
What:
Look for whimsical, lightweight pleated garments for fall 2011. Avoid your typical cotton or wool, schoolgirl pleated skirts; instead, opt for fabrics like silk and tulle. Also, look for a floor-length, semi-sheer pleated skirt. This length and weight is perfect for late summer and early fall dressing. The long hemline is elegant, and the light fabric is ethereal and youthful — not to say a pleated skirt is age-restrictive! A long, pleated skirt is sophisticated and appropriate for women of all ages.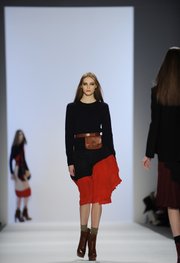 On-trend pleats:
For all clothing pieces this fall, knife pleats and sunray pleats are the most in-style. Knife pleats, the simpler of the two, are singular, one-direction folds. Sunray pleats, on the other hand, start with small folds that gather the fabric, gradually widening toward the bottom of the garment to release more fabric. A sunray pleat creates a gorgeous, flowing effect from the top down. They are perfect on simple, monochrome dresses — the fitted, tailored pleats on top turn slowly into full, feminine swirly skirts below.
Styling your pleated pieces:
While the weather is still warm, shorter-length pleated dresses are breezy and fun. Pair an above-the-knee, pleated skirt with a crop-top, platform pumps and a straw fedora for an edgy, summery look. Boxy shirts and blouses are a fun shape to pair with a pleated skirt, their wide shape contrasted by the vertical pleats of a skirt. As temperatures start to change, above-the-knee pleated skirts can be paired with tights, and floor-length skirts look great with socks and wedges. For a dressy look, a fitted blazer and metallic blouse are easy, in-style tops. For a more urban, rocker look, pair your pleated skirt with boots and a motorcycle jacket.
For more styling ideas, check out pleated garments on the runway.
l At Jill Stuart Fall 2011, the designer showcased a fabulous, color-blocked pleated dress. Beige, black, coral and gold were combined to create the ankle-length dress.
l The Chanel Fall 2011 Collection incorporates black, pleated trousers. Some are worn with long, fitted blazers and heavily textured, feminine tops.
l Additionally, Vera Wang's Fall 2011 collection includes a nude, dress with tons of pleated construction. This dress in particular is amazing — despite all of the manipulated fabric, the garment looks easy and dreamy.
Copyright 2018 The Lawrence Journal-World. All rights reserved. This material may not be published, broadcast, rewritten or redistributed. We strive to uphold our values for every story published.