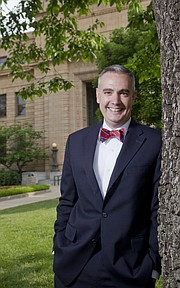 If you don't know Kansas University's new vice chancellor for public affairs, just look for the fellow with the big smile and the bow tie.
Tim Caboni came to KU this summer in the new position that will bring university communications, KU's public relations and marketing arm, and its state and federal legislative relations work under one umbrella.
Caboni said one reason he decided to take the new post was because of the confluence of two things that would help shape KU for the future, a new strategic plan being worked on by students, faculty and staff, coupled with a new comprehensive fundraising campaign.
"KU is poised to do even more amazing things," he said.
He said he was also drawn to the new leadership at KU — with Chancellor Bernadette Gray-Little having been here for only one year, and Provost Jeff Vitter's recent arrival.
"The ability to join that team and be helpful was exciting to me," he said.
He hopes to be able to help KU tell its story better, and as he puts it, get everyone "singing off the same song sheet."
"Most people know about the remarkable athletic traditions here on campus," Caboni said. "What I began to learn and uncover as I studied the place, though, is that there are these amazing academic traditions."
He mentioned the cancer-fighting possibilities in the School of Pharmacy, biorefining and its capability to reduce the country's dependence on foreign oil and KU's Life Span Institute, and its research to help both the young and the old overcome challenges that they face.
Gray-Little said Caboni would work with legislators and the public in his new role.
"He is energetic. He's outgoing," she said. "I think he has very good judgment, a lot of good ideas and will be able to work efficiently" with people outside of the university.
Caboni, who grew up in the New Orleans area, has served in a number of different roles. He worked as a development research analyst for Loyola University, but said he didn't enjoy sitting behind a computer all day.
He took a position with the university's alumni association, and helped plan events and organize new chapters there.
Caboni also worked at Loyola's development office, and helped raise money for the university, an area that has also been a focus of his research.
Before coming to KU he was an associate dean at Vanderbilt University's Peabody College of Education and Human Development, where he, among other efforts, helped design an external relations program for the college.
"I had an amazing run there, and learned so much about what it meant to be a senior administrator at a college or university," Caboni said.
Ellen Goldring is the chair of the education policy and leadership department at Vanderbilt's Peabody College. She knew Caboni as a doctoral student at Vanderbilt and later when he was associate dean.
"He helped raise the profile of Peabody College, and create a culture of excellence," she said.
She gave an example of his efforts there. He established a community screening of "The Principal Story," a documentary released by the Wallace Foundation about the daily lives and challenges of principals. The local superintendent attended, as did Vanderbilt faculty members who were also involved in Wallace Foundation research.
Caboni managed to link Peabody researchers to real-world situations where their expertise could help solve problems, and got people to think about the school in that way, Goldring said.
"We're sorry to see him leave, and are very proud of his accomplishments, and wish him all the best," Goldring said.
He said he hopes to help KU play a greater role in telling its own story, instead of relying on others to come to them.
He envisioned not just putting out news releases, but also building on themes, using social media and structuring the chancellor's appearances and speeches around a major topic on which the university is focusing.
"The University of Kansas is beloved by both the people that work here and the people who graduated from here," he said. "I got that sense during the interview process, but I've come to understand it even more since I arrived on campus."
Copyright 2018 The Lawrence Journal-World. All rights reserved. This material may not be published, broadcast, rewritten or redistributed. We strive to uphold our values for every story published.