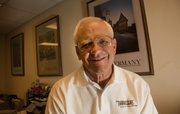 As the Internet continues to turn personal computers into virtual travel-booking kiosks, travel agents are confident they aren't going away anytime soon.
Just ask Walter Houk, president of Travellers Inc., 831 Mass. He has been in the business for more than 52 years and started Travellers in 1994. He has survived many challenges, like stock market fluctuations, the end of airline ticket commissions and the post-9/11 recession.
While more Americans book their travel online — 93 million in 2009, according to a U.S. Travel Association survey — Houk said he never considered the Internet a threat.
"There's no question the Internet has an effect," he said. "We've always been dealing with direct sales; now, the Internet made it easier."
It's the recession that is hurting business the most, Houk said, adding that it's the toughest problem his business has faced. Houk said people are still traveling, but they are taking more affordable vacations, like weekend getaways, instead of trips that require a travel agent.
"If they had money to spend, I think the Internet would be less of a thing," Houk said. "Now, if they're looking for those trips, there's that myth that if I find this on the Internet, a seven-day cruise for $690, I got to take that."
Anne Walters, general manager of Travel Leaders, 4104 W. Sixth St., said her company has embraced the Internet to make their job easier, utilizing it to send clients information about their trips as well as their itinerary.
AAA Lawrence has also embraced the Internet. Jim Hanni, spokesman for AAA Kansas, said customers can book their travel online or work one-on-one with an agent at their office, 3514 Clinton Parkway.
Travel agencies charge a fee, usually $25 to $30, to book airline travel. Other travel reservations, such as for hotels and cruises, are free because those companies still pay commission.
Travellers and Travel Leaders also rely on corporate travel. Walters said companies value the convenience of booking all their travel through a single account.
Chris Armstrong, president of Travel Leaders, said the volume of reservations his agency makes with businesses sometimes gives them access to better deals than people can find on their own. These relationships also allow his agency to solve unexpected problems, such as flight cancellations and last-minute crises. Armstrong said an agent will not only rebook the travel but also do it without fees.
Hanni also said relationships with suppliers has kept AAA competitive.
"We work with preferred vendors who jump through hoops because you have a relationship with them," Hanni said.
It's the ease of having all their needs taken care of that keeps customers coming back, Armstrong said.
"More than anything else, the relationships have continued throughout the years," Walters said. "It's a bond of trust."
The U.S. Travel Association's 2010 survey, Travelers' Use of the Internet, indicated online travel bookers grew by 3 million from 2007 to 2009. Forty-three percent of leisure travelers surveyed said the Internet decreased the likelihood they would call a travel agency; 44 percent said it had no effect.
Houk's confidence in his business has two core beliefs: people choose personalized customer service, and travel is a necessity, not a luxury.
"Travel is something that people have to have," Houk said. "If you woke up every morning and said, 'This is what it is for the rest of my life,' that would be a nonexistence."
Copyright 2018 The Lawrence Journal-World. All rights reserved. This material may not be published, broadcast, rewritten or redistributed. We strive to uphold our values for every story published.