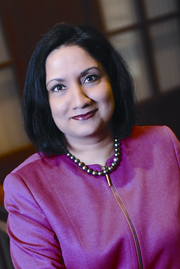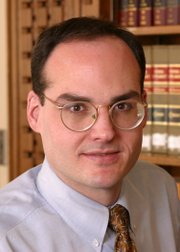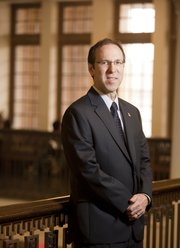 The gang is all here.
And when it comes to Kansas University's leadership team, that is a feat in and of itself. After hiring three new dean positions in approximately the last 12 months, the top positions at all 11 schools on the Lawrence campus are once again filled.
No one is happier about that than Provost Jeffrey Vitter, who was the first of several major hires when he began work in July 2010.
"I think we are just in a remarkably fortunate position now," Vitter said. "We have worked hard to make it work out this way, but it is extremely important to have everyone in place."
Recent major dean hires have included:
Neeli Bendapudi, an Ohio State marketing professor who took over as dean of the School of Business on Aug. 1.
Stephen W. Mazza, dean of the KU Law School. Mazza has been a faculty member at the school since 1998 and also served as interim dean before winning the job in April.
Danny Anderson, a Spanish scholar who had served as KU's interim provost before taking over as dean for the College of Liberal Arts and Sciences in July 2010.
Vitter said having the top leadership positions filled — the university also has hired a senior vice provost for academic affairs and a vice provost for diversity and equity in recent weeks — will help with strategic planning efforts on campus.
Since February, Vitter's office has received 104 proposals for strategic initiatives on the KU campus. He said having the campus' leadership team in place will be critical to evaluating the plan and implementing it.
"The key part of the plan is a blueprint for moving KU forward in very, very important ways," Vitter said. "It is more important than ever for KU to really manage its resources."
Having the right leaders in place is an important part of that management process, he said. Vitter said changes in university cultural have demanded new types of leaders who are more entrepreneurial.
"We want true innovators and thinkers," Vitter said. "Researchers who will push the boundaries of knowledge, and communicators who can very effectively work with groups of people in advancing projects because more and more these days the big questions are multidisciplinary."
Vitter also said that the recruitment process to fill the several vacant positions shed good light on KU. He said a "remarkably collegial campus" was a selling point in attracting candidates for the position. But he said a common theme he heard from candidates is that the university has an opportunity to better promote itself.
"It is a very humble place," Vitter said of the area. "There is this great Midwest ethic of not overly touting yourself, but that can be a detriment nationally when you consider how some universities are aggressively touting themselves."
That opportunity to better promote the university ended up being an attraction to several candidates, Vitter said.
"When you have a really sound base but perhaps it is not as recognized as it should be, it is very easy to make some immediate improvements in visibility because the strength is already there," Vitter said. "Leaders recognize those opportunities."
Copyright 2018 The Lawrence Journal-World. All rights reserved. This material may not be published, broadcast, rewritten or redistributed. We strive to uphold our values for every story published.