Photo Gallery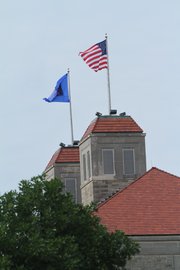 Flags on KU campus
O! say, can you see, by the dawn's early light …
Yes, Ed Kiernan can. Technically, thousands of people can see the American flag atop Kansas University's Fraser Hall. But few see it like Kiernan does. Kiernan is part of the crew of workers at KU's Facilities Operations department who are responsible for maintaining the Fraser flag.
And he's one of a handful of workers who live close enough to campus that he can see the flag from his house. So, yeah, if the dawn's light shows that the flag is taking a beating from a storm, or that it isn't at half-staff when it should be, or it just plain doesn't look right, Kiernan is likely to hop into his vehicle — even on a weekend — to take a closer look. That, of course, means climbing the stairs and working the trap door that leads to the tower atop Fraser.
"It is not something we have to do," Kiernan said of coming in on off hours to tend to the flag, "but it's something we want to do."
What so proudly we hailed at the twilight's last gleaming …
Kiernan said a certain amount of pride goes into tending to KU's most prominent flags. In addition to the flags atop Fraser Hall, the department also maintains the flags at Strong and Lindley halls. Those two flags come down at dusk each day and are raised at daylight. All three flags fly next to a KU flag, and the flag at Strong also is accompanied by a state of Kansas flag.
While there is no bugler — or Francis Scott Key, for that matter — as part of the daily lowering and raising ritual, proper flag etiquette is followed.
"The American flag always goes up first and comes down last," Kiernan said.
Crews also properly fold the flags when they are taken down for the day, then store them in a secure place. One of Kiernan's responsibilities is to inspect the flags to make sure they are still in good condition. If they're not, Kiernan either will have them repaired or ceremoniously destroyed by the local VFW chapter.
"A lot of the folks on the crew are former military," Kiernan said. "It is important to them."
Whose broad stripes and bright stars through the perilous fight …
Broad indeed. The American flag atop Fraser Hall is an 8-foot-by-12 foot all-weather flag. Kiernan estimated it costs about $60 to replace. Kiernan said it is not unusual to have to replace or repair the flags on Fraser once a month.
Why so often? Sing on, sing on.
O'er the ramparts we watched, were so gallantly streaming …
A streaming flag is fine, but a flapping flag is something different. You know, a flag that is so stiff from the wind that it makes that pop, pop, pop sound. Here's the thing about the Fraser flag: No matter how gallant it is, the big flag doesn't hold up well in a big wind. And big winds can be common atop Fraser.
"I would say if the wind is blowing 15 miles per hour on the ground, it is blowing at least 25 to 30 miles per hour up there," Kiernan said.
That causes crews to keep an eye on the weather. Kiernan and one other crew member are responsible for making the daily decision on whether the wind is too strong for the flags to fly on Fraser.
"We don't want to see them up there getting ripped apart by the wind," Kiernan said.
But ensuring that doesn't happen requires a certain amount of vigilance. Kiernan said the Kansas wind can do its damage in a hurry.
"If it is a windy day and the flag is flying all day, I would say about one day is how long the flag would last," Kiernan said. "It just all depends on the wind."
And the rockets' red glare, the bombs bursting in air …
OK, so the fellows at Facilities Operations don't have any stories about bombs bursting in air. You've got them there. But they do get verbal bombs — yeah, I'm stretching here, but work with me. They get complaints, though. That much is certain. Hank Louisa, associate director of Facilities Operations, said it is not uncommon for the phone to ring when the flags are not flying on Fraser.
"We have a lot of veterans in this town who make a point to watch those flags," Louisa said.
When they're not up, Louisa said he tells them that it is too windy. Sometimes, they'll remark that it is not too windy at their house.
"And then I usually ask them whether their house is as tall as Fraser."
Gave proof through the night that our flag was still there …
Nighttime flag watching is a possibility at KU. The Fraser flags are lit, which allows them to stay up through the night. What? That's all I've got. The song is great, but it is quickly growing longer than my notes.
O! say, does that star-spangled banner yet wave …
Yes, of course, it waves, and often times on national television. Kiernan said members of the flag crew take pride in the fact that almost every KU promotional piece that runs during a national telecast of a KU basketball or football game features a shot of Fraser Hall with the flags flying high.
"We all feel like it is an important part of the job because it is so visible," Kiernan said. "You can see Fraser for miles around."
O'er the land of the free and the home of the brave?
And, thanks to a flag crew, over Jayhawks too.
(All right. You can sit down now. You did stand, didn't you?)
Copyright 2018 The Lawrence Journal-World. All rights reserved. This material may not be published, broadcast, rewritten or redistributed. We strive to uphold our values for every story published.