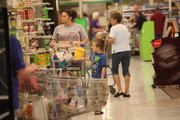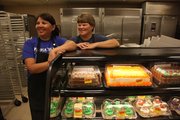 For some, Saturday's closing of the Dillons at 1740 Mass. meant discounted ice cream and TV dinners. For others, it meant saying goodbye to familiar faces.
Two 30-year employees of Dillons said they were sorry to go, and hoped they would be able to return to work at the location when it reopens next year.
"We started together and we're closing it down together," said Julie Sutheimer, who began working in the bakery department in 1980.
Her friend Karen Strickland had been working in the bakery since 1979.
The pair went to same high school, have children who are close in age, but now will be parting ways. One will be going to a store in Topeka, the other going to the Dillons at Sixth Street and Wakarusa Drive.
"We have built great relationships with customers, and it's hard to say goodbye," said Sutheimer.
One of those customers walked over to the women and thanked them for their service. It was a common occurrence throughout the store Saturday, as customers asked employees where they would go, and if they would come back when the store reopened.
District Manager Kim Svoboda was in from Topeka to mark the store's last day.
"This is the only time you'd see one of our stores looking like this," she said, noting the half-empty shelves growing more disorganized as customers picked through them.
Packing up an entire store takes a lot of work, but Svoboda has done it before. Inventory and equipment will be moved to different locations throughout the company. The store's oven is going to Eldon, Mo. Wichita is getting its rotisserie. Canned goods and other items will go to area stores.
But frozen foods and other perishable items would not be sent out, thus discount prices. By 9:30 a.m., they were going for half off.
"I'm going to stock up so I don't need anything until the new store opens," joked Mary Gray, who had been shopping at that location for 30 years.
Gray will have to a wait a while to shop at her favorite location again. The company said the new store, first proposed in November, should take from 10 to 12 months to complete.
According to its plans, the new store will be 43,000 square feet, 10,000 square feet larger than the current store. That extra space will be used to put in a Starbucks, spacious organic food and deli sections, and a drive-thru pharmacy.
"I'm sad, but it's going to be nice," said Gray, who has been shopping there since the store opened. "They deserve it."
In the meantime, Dillons has set up a temporary pharmacy at the corner of 19th and Massachusetts streets to continue serving customers until the new store is ready.
Copyright 2018 The Lawrence Journal-World. All rights reserved. This material may not be published, broadcast, rewritten or redistributed. We strive to uphold our values for every story published.