Photo Gallery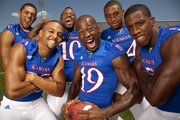 2011 KU football media day
Kansas University defensive coordinator Vic Shealy spoke with reporters for about 25 minutes following Thursday's practice and it seemed as if he could've talked for at least twice that long.
The reason? Serious strides are being made on defense and Shealy, who was promoted this spring to replace Carl Torbush, seems more than a little excited about each one.
Here are the highlights:
Opurum on fire
The progression of junior Toben Opurum as a defender has reached the point where Shealy has started to mention him in the same breath with words like all-conference and NFL Draft.
"Toben's not a perfect player," Shealy said. "Toben can get a lot better. He is now in the process of becoming a good player and that process will continue. But he did two plays today that I would put up against any guy in our conference. He made two plays that were pretty doggone salty. What we want to do is take advantage of that."
Earlier this week, both Opurum and Shealy confirmed that Opurum would be an outside linebacker in KU's 3-4 defensive set. The goal, Shealy said, is to move Opurum around to create mismatches that he can exploit.
As for the two plays Opurum made on Thursday, Shealy stopped short of describing them exactly, but said both involved incredible athleticism and a little bit of trickery that threw off the ball carrier just enough to allow Opurum to lower the boom.
"He's a confident guy," Shealy said. "But I went over to him during our break today and I said, 'That was a really nice move.' He just shook it off and said, 'Yeah, it was a good play.' But we want to bottle that one up many times over. Part of our problem of not getting pressure on the quarterback last year is being chipped away at."
Freshmen amaze
Some of the newest faces on the KU roster continue to push the upperclassmen in practice. A handful of them may have already played their way into early playing time.
"We have some freshmen that have amazed us," Shealy said. "When I say amazed, I mean, they've picked up on (our defense) as fast as some of the upperclassmen did last year. We're really excited about those individuals."
One of them is Collin Garrett, of Beaumont, Texas. Garrett, a 6-foot-1, 215-pound hitting machine, appears to have put himself into the rotation at inside linebacker because he has impressed the coaches with his intelligence and passion.
"Colin Garrett did a really nice job during some pass coverage for about three plays in a row," Shealy said. "He just did a great job matching up to some routes, and in front of all the upperclassmen linebackers I said, 'You know that guy wants to play right now. He's not making mistakes and he's playing fast.'"
Garrett was not the only freshman to impress Shealy during the first week of fall camp.
"You know what's nice," he asked. "You look at those defensive freshmen and not one of 'em's a miss. They can all play. It's a very talented class."
Williams keeps rolling
After a strong spring in which he showed a better understanding of his current position, defensive tackle John Williams, a former offensive lineman, has continued to improve during fall camp.
Shealy said the 6-3, 300-pounder from Tulsa, Okla., has transformed from a big body with plenty of potential to a lean pass rusher thirsting to make plays.
"He's become more serious," Shealy said. "We really like the way that he's approaching practice right now too. He's pretty consistent on and off the field... He has a serious mentality on the field of wanting to be coached and wanting to be a good player. As a coach, that fires you up to see a guy that wants to be coached."
Roll call
Several other defensive players drew praise from Shealy on Thursday. Those mentioned most often included linebackers Steven Johnson and Tunde Bakare, cornerback Greg Brown and safety Bradley McDougald.
Copyright 2018 The Lawrence Journal-World. All rights reserved. This material may not be published, broadcast, rewritten or redistributed. We strive to uphold our values for every story published.