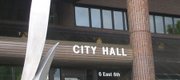 Subscribe to the email edition of Town Talk and we'll deliver you the latest city news and notes every weekday at noon.
News and notes from around town:
• Mark it down: A peanut butter grinding machine. I've been covering this plan for Dillons to tear down its existing store at 1740 Mass. and replace it with a new larger, more modern store for months now. But this is the first I have heard about a peanut butter grinding machine. As we previously reported, Saturday will be the last day for Dillons' old store on Massachusetts Street. But now Dillons is providing additional information about the closing and what is to come. First, about the discounts. (In my house, you start all conversations about food with a discount. Full price is fool price, according to my wife.) Dillons spokeswoman Sheila Lowrie said the store won't start discounting items until Saturday, and only on an as-needed basis in order to move the merchandise. She also confirmed the store will shut down at 6 p.m. on Saturday. She also said work continues on a temporary pharmacy location at 1901 Mass. St. Plans call for the pharmacy to open on Sunday. Hours for the temporary pharmacy will be 9 a.m. to 7 p.m. Monday through Friday, 9 a.m. to 6 p.m. on Saturday, and 10 a.m. to 2 p.m. on Sunday.
But now that we've got all that information about life-saving drugs out of the way, let me tell you about the really important enhancement — a peanut butter grinding machine. The store will feature a section where you can buy unpackaged items in bulk. Including, apparently, peanuts. And then right next to that will be a peanut butter grinding machine. I really don't have any idea why this fascinates me so. Yes, I'm sure there are probably peanut butter grinding machines elsewhere in Lawrence, and they have just been hidden from me. They probably don't accept coupons, and thus they're forever dead to my wife and chief shopper.
Anyway, here are some other details about what the new store will include:
A deli that will feature made-to-order gourmet sandwiches, Chinese food, frozen drinks, fried chicken and fresh sushi;
A salad and soup bar;
A Starbucks coffee shop;
An indoor and outdoor dining area with wireless Internet access;
A gourmet cheese shop and olive bar;
A larger organic foods section, including a Nature's Market area that will sell "natural remedies."

An expanded bakery;
A full service flower department;
An expanded pharmacy with a drive-thru lane.
The new store will have about 100 to 120 employees, Lowrie said. The current store has about 70 employees. Lowrie said most of the store's current employees will be transferred to Dillons' other Lawrence stores on Sixth Street and 23rd Street.
Lowrie said the razing of the existing store won't happen for a few more weeks, in order to give crews time to remove some pieces of equipment from the location. An opening date for the new store hasn't been set, other than sometime in spring 2012.
• Civil War buffs will have plenty of opportunities to get out on the town in the near future. Thursday night, the Watkins Community Museum opened its new exhibit "It Happened on Mass Street: 150 Years in Lawrence." The event displays artifacts and photographs from the city's history. The event featured a talk from Civil War historian Martha Parker and local author Tom Mach.
Tonight from 6 p.m. to 7:30 p.m. will be a special dinner at the Eldridge Hotel. The event will feature several actors portraying John Brown, Charles Robinson, Jim Lane, Abe and Mary Lincoln, Sheriff Sam Jones and others. The event also will include a display of an original U.S. Civil War Lincoln flag. The event is sold out. But I mention it anyway because it is part of the city's Civil War on the Western Frontier Days. There are multiple events going on through Aug. 21, the date that Quantrill raided Lawrence in 1863. They include screenings of various movies related to the attack, walking tours, and even a roll call of the names of the victims of the attack. You can see all the events here.
Expect to hear more about Quantrill's Raid in future months. As part of the 2012 budget city commissioners approved this week, there were instructions for the city staff to convene a group to discuss ways to recognize the 150th anniversary of the raid, which will be in 2013. In that budget, the city has indicated it is willing to spend some money — it didn't specify an amount — on either an event, a piece of art, or some other way to mark the tragedy that forever shaped Lawrence. The city has money in its guest tax fund — a special tax charged to hotel and motel guests — that could be used to fund a commemoration. Now, city leaders need to decide what that will be.

• Speaking of events, Downtown Lawrence Inc. is working to get a couple of new ones off the ground. Downtown Lawrence Inc. is working with the Lawrence Memorial Hospital Endowment Association to sponsor a "shopping event" that will benefit Mario's Closet, which is a specialty shop for cancer patients at LMH. The tentative date for the event is Oct. 13. The idea of the event is similar to the popular Mass Street Mosey, but shopping will be the focus instead of wine tasting. Stores throughout downtown will be encouraged to donate a designated percentage of sales from that night to Mario's Closet. LMH and DLI will team up to market the event and offer some other attractions. DLI director Cathy Hamilton hopes to attract 1,000 shoppers to downtown on that Thursday evening.
Hamilton also is starting a new program aimed at providing education to downtown retailers. Hamilton hopes to have one continuing education class per month for downtown retailers who are members of DLI. The classes will include topics ranging from meaty finance issues to how to best create window displays. I'll be taking part in the group's next event at 8 a.m. on Tuesday at the DLI offices at 833 1/2 Mass. Myself and 6News' Jesse Fray, along with Hamilton, will talk about how businesses can better interact with the media.
Copyright 2018 The Lawrence Journal-World. All rights reserved. This material may not be published, broadcast, rewritten or redistributed. We strive to uphold our values for every story published.