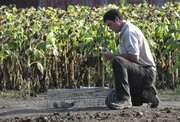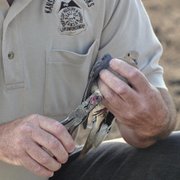 Pittsburg — David Jenkins has spent the better part of July and the first part of August trapping mourning doves in metal cages and crimping metal rings around their legs.
In theory, it sounds sadistic and cruel. But in practice, Jenkins moves with a gentle speed that neither harms nor traumatizes the birds. What he is doing, in fact, will help state wildlife authorities better manage and understand the game birds and the effects hunting and the environment are having on them.
With the help of staff and local volunteers, Brian Natalini and Jamie Johnson, Jenkins, an assistant wildlife manager with the Kansas Department of Wildlife, Parks and Tourism, has trapped, banded and released nearly 750 doves.
"Without their help we wouldn't have been able to get those kinds of numbers," Jenkins said.
Once the doves are caught — in ground-level cages placed near sunflower fields — Jenkins' crew attaches to them lightweight metal bands which bear unique tracking numbers and contact information. By using this information, hunters and wildlife officials can record the birds' migratory patterns, the percent of the population shot by hunters and the percent of the population that survives one year. The project is important this year because drier spring and summer conditions have been favorable for mourning dove reproduction, Jenkins said.
"It seems like this year has been a pretty exceptional year," Jenkins said recently while driving to check traps he had set outside Weir. "In the right conditions doves can have up to five clutches of eggs a year.
And now, hunters can harvest up to 15 doves per day, but it's important to monitor them so we don't over-harvest the birds."
The project is taking place in 28 states and has been ongoing since 2003, according to a KDWPT report. To date, more than 11,000 doves have been banded in Kansas, and more than 300 of those have been shot by hunters — of those, more than 70 percent were shot in Kansas — and reported to the state's Bird Banding Lab.
Last year 2,370 doves were banded in Kansas.
The trapping process is generally painless and simple. For one or two weeks before the traps are laid in one of four preset locations, Jenkins and his crew bait the trap sites with piles of sunflower seeds to condition the doves to head straight for the easy pickings. Then his crew lays the traps, which are thick wire cages with funnel-shaped entranceways that allow the birds to squeeze inside but that are too narrow for them to escape. When Jenkins' crew members find a trapped bird, they gently extract it from a door in the ceiling of the cage, record whether it is a hatch-year bird — born after Jan. 1 — or an adult, as well as its sex and stage of molt, and finally crimp a band around one of its legs. Then they open their hands and release the bird unharmed.
"We've got 23 bands left, and we hope we can use them up in the next couple days," Jenkins said after logging and releasing the last dove of the morning.
With dove season set to open Sept. 1, Jenkins said hunters are critical to the study. He encouraged hunters to be on the lookout for the bands and to report them as often as possible.
"It's really easy to miss them because they're so small," Jenkins said. "We just want hunters to keep an eye out for them."
Copyright 2018 The Lawrence Journal-World. All rights reserved. This material may not be published, broadcast, rewritten or redistributed. We strive to uphold our values for every story published.