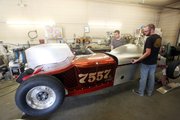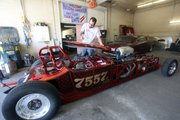 Hutchinson — His pride was clear as Justin "Bondo" Fields sat on a low stool in his body shop in the 800 block of South Main Street, stroking his long taupe-colored beard as he talked about the challenge taken up by his sons.
Gleaming before him on the dust-free concrete floor was a long, low-slung roadster, detailed in deep red candy flames and metal flake paint reminiscent of the hotrods of his teens.
But it clearly wasn't the car of his youth.
Built from the ground up by brothers Roy Fields, 24, and Justin Fields, 28, the car is destined for high-speed runs at the Bonneville Salt Flats in Utah, about 100 miles west of Salt Lake City.
Sporting a stylized D, designating its engine size, and the letters FMR, for fuel-modified roadster, the vehicle piloted by Roy Fields will attempt to set the land-speed record for its class of 247.7 mph.
Now primarily a crafter of fiberglass parts for aircraft restoration, Fields, 52, said he was building cars when his son Justin was a toddler.
"They were both in the shop before they could walk, waddling around in one of those round things with wheels," Fields said. "When he (Justin) was 6 or so and I got a new dresser, he asked for the old one and built a racer."
The eldest has always been detail-oriented, Fields said.
For almost a decade, starting when Roy was a toddler, Fields also worked with cousins Clay and Dean Bontrager racing Sprint cars.
"Roy thought it was the cat's meow," Fields said. "That's why he's driven to go fast. He doesn't care how pretty it is, it's how fast it goes."
Together they formed the perfect team to create the car that Fields can't wait to see streaking across the barren white flats.
For the past four years, the family has traveled to Bonneville to help Hutchinson resident Mike Yoder run a gas modified car on the salt flats. Last year, Yoder was just 7 mph short of the record for his 160 mph class, Fields said.
It was at the track last year that Roy, who "got some seat time" in Yoder's car, determined he wanted to be in the "200 Club," his father said, reserved for those traveling at least 200 mph.
They began work on designing the car a couple of weeks after returning to Hutchinson, and spent the past 10 1/2 months constructing it.
"Some didn't think they could get it built," Fields said.
They applied for their number in May, and when they race it will be in car No. 7557.
The pair began with a standardized tubular steel frame from Speedway Motors in Lincoln, Neb., which established the car's length and 140-inch wheelbase as a 27-T roadster, first run at Bonneville in 1948, the senior Fields explained. They cut 1 1/2 feet from the front, which the rules allow, to install a wider engine.
Dean Bontrager, of Bontrager Powder Coating, and J.W. Wilbeck of Agricenter in South Hutchinson, supplied the 305 cubic-inch Chevy V-8 engine. The family purchased the 300 mph-rated tires and wheels, but otherwise handcrafted the car from fiberglass, aluminum and steel.
They didn't record the hours put into it — "thousands," Fields said — and they quit counting the cost months ago. Both young men worked most evenings after work and, starting about four months ago, Justin took on the mission full time.
"There's 145 to 150 (hours) in just the paint job," he said.
The "boys" studied hours of crash video, Fields said, before designing the structure, trying to build in maximum safety.
"Every precaution was taken to protect him in the event of a catastrophic crash," Fields said. "Their whole design far exceeds any minimum requirements."
The car includes a dual fire suppression system, for both the cockpit and under the hood.
After constructing the main body of the car, the team fashioned a nose guard, engine and cowling covers from polished hard-point aluminum, to bolt on after an inspection at Bonneville. The nose guard alone was fashioned from five pieces of aluminum.
"I'm real anxious to get out there, for the tech inspection and license," Fields said. "They go over it with a fine-toothed comb. I'll just stand back with a puffy chest. It's going to draw a lot of attention."
Cars can run on any liquid fuel, but the type of fuel separates the classes. The Fieldses' car runs on a blend of alcohol and nitromethane. Depending on the nitro blend — it will be about 5 percent, but they may "tip in a little more" if they need to boost the speed — the engine will pack 500 to 600 horsepower.
The vehicle weighs only about 500 pounds, Fields said, but they'll add a couple of dozen book-sized lead weights, all melted and hand-poured by Justin over several days, to add hundreds of more pounds. More weight means more speed.
"The tires will probably begin to spin at 200 mph, to lose traction," Roy Fields said.
"It's basically like driving on ice," his father explained. "Very slick."
He wouldn't confess to nerves or growing anticipation as race week approached, though the taciturn Roy, a welder at Superior Boiler Works, conceded, "On the drive there I'll probably start to get excited."
The Bonneville Salt Flats is a massive former salt lake, stretching over some 30,000 acres near the Utah-Nevada border. The Bureau of Land Management administers the land and opens it each summer to the races.
At Bonneville there are two courses — a shorter one of about five miles and a long course of more than seven miles. The starting lines for both are close together and share staging lanes. The courses angle away from each other, so that the area in between them becomes wider as speeds increase, according to the track's website.
All cars must qualify to run on the long course by first demonstrating the ability to run over 175 mph on the short course. Then they "step up their license" in 25 mph increments.
Each car runs alone on the race course, competing only against the speed clock. With no side-by-side competition, cars go into the staging lanes and starting line in random order. When a competitor feels they are ready, they simply get in line.
In the early days of the runs, there may be as many as 200 cars in the staging lanes, meaning waits of up to four hours. But as cars drop out over the week, the waits are much shorter, Fields said.
"We can talk all day about Bonneville, but until you've gone, you can't understand," Fields said.
"We take half our shop with us," he said. "But if we're missing something, we can just start roaming pits. One guy goes this way and one the other until we find what we need. Everybody's happy to loan."
The pits are about two miles long and a quarter mile wide, Fields said.
"You meet people from all over the world there," Fields said. "From Japan to Australia. They ship their cars out in containers months ahead. I can't imagine the cost."
"And what do they win?" Fields asked. "Absolutely nothing. They get their name on a record until the next guy goes a little faster. It's the last form of motor sport still considered truly amateur. There are no sponsorships and no money to gain... and I hope there never is. If that comes about, it will ruin the last pure form of hot rodding."
Some people return year after year just to run a car on the track, Fields said. Some are there hoping for a record, and some just to better their own time.
"There's no doubt it will get a record," Fields said of the family car. "Just maybe not this year."
Copyright 2017 The Lawrence Journal-World. All rights reserved. This material may not be published, broadcast, rewritten or redistributed. We strive to uphold our values for every story published.