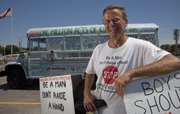 -->
Most nights, Bob Votruba sleeps in an old school bus without air conditioning. He eats peanut butter and sugar sandwiches at least 15 times a week. He is the self-proclaimed "king of the dollar menu."
He doesn't own a house, even though he built them for 25 years. Just the bus.
Two years ago, Votruba decided he had seen enough violence and hatred; in his mind, the world had become a place unsuitable for his three children. So he decided to build a new one.
He founded One Million Acts of Kindness, a group and philosophy all in one. He quit his job and sold his business and just about everything else he owned to pursue his passion: traveling in his bus to inspire people to help one another.
"I'm trying to convince people they are the answer to creating a better world," he said.
This summer, Votruba and his Boston Terrier, Bogart, are traveling the country to fight domestic violence and spent the last few days in Lawrence. He had "an incredible experience" at the Willow Domestic Violence Center on Thursday, he said. When he isn't meeting with workers and victims, he rides his bike to spread the message; a sign attached reads "Be a man, don't raise a hand."
He said his retirement fund from his previous job covers his expenses. People help out along the way, and he always accepts donations to feed his bus's 5-miles-per-gallon appetite.
Votruba passionately talks about the people in Bangladesh promoting his group or the thousands he's spoken to nationwide. One can sense he truly believes the group will have a lasting effect on the world.
"I'm truly convinced everyone has a gift that can be a great benefit to others," he said. "It's a choice, no matter who you are, to do these things."
Copyright 2018 The Lawrence Journal-World. All rights reserved. This material may not be published, broadcast, rewritten or redistributed. We strive to uphold our values for every story published.