Photo Gallery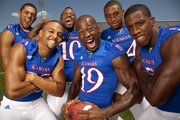 2011 KU football media day
He has shown it during the past couple of months in the way he has conducted his business and run his program.
Tuesday, at Kansas University's annual football media day at Mrkonic Auditorium in the Anderson Family Football Complex, KU coach Turner Gill came right out and said it.
As he enters his second season in charge of the Jayhawks, Gill definitely has a much more Zen-like approach than he did a year ago.
"A lot more relaxed," he said. "The coaching staff, No. 1, they all understand my approach and way of doing things. Now they know how I'm gonna respond. When you have the unknown, you have a lot more anxiety. So I feel less tension in the room with our staff, and I think that's a huge thing. And also I see it in our players. They know what our expectation is, and they can also teach the younger guys as they come in. The unknown has really been knocked off."
There still remain plenty of question marks: who will play where, and what type of team will the Jayhawks field this season? But that's to be expected, especially in August.
In terms of how things are run and the passion with which the team operates, Gill said the more relaxed approach has made focusing on football easier.
"Being here a year, we've had certain things come up in the program that I've had to handle," he said. "I think they've seen how I handle that, whether it's right, wrong or indifferent. But they know how I'm going to handle it, and we can all just move forward."
QB update
Third-year sophomore Jordan Webb continues to be the first quarterback mentioned when Gill and his coaching staff talk about the team's most visible position.
Quinn Mecham, a senior who also has starting experience, continues to sit an arm's length behind.
After that?
"There's a gap," Gill said. "(True freshmen Brock Berglund and Michael Cummings and red-shirt freshman Blake Jablonski) have a long way to go if they're going to make something happen as far as a chance to compete for the starting job. Again, we're going to have to have something within in the next week, week-and-a-half. If an underclassman is going to have a chance to play, we'll make that decision at the time. I like the way the top two guys are moving forward."
One other note on Berglund: Sources said the freshman QB from Highlands Ranch, Colo., is back in town.
Gill wouldn't confirm Berglund's whereabouts and said he would continue to respect the legal process and allow Berglund to return to Colorado as much as necessary to take care of the third-degree assault charge he's facing.
Pick's passion
Quarterback-turned-wide-receiver Kale Pick received a vote of confidence from Gill in one of the head coach's most important categories.
"If I had to say one guy that understands passion, that's who I'd point to, Kale Pick," Gill said. "He shows how to play the game with passion. He's not a vocal guy. Having passion doesn't mean you have to be verbal and talking a lot, it just means when (he comes) in this room, he's focused. He goes on the football field ready to play, ready to get after it. He takes every rep like it's gonna be his last, and he's definitely a very good example of what you mean when you define the word passion for a football player."
Jayhawks add juco CB
Dominic Foreman, a junior-college transfer from Coffeyville, has joined the Jayhawks and will take the spot vacated by D.J. Marshall, who left the team earlier this week.
Copyright 2018 The Lawrence Journal-World. All rights reserved. This material may not be published, broadcast, rewritten or redistributed. We strive to uphold our values for every story published.