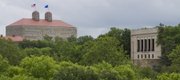 Subscribe to the email edition of Heard on the Hill and we'll deliver you the latest KU news and notes every weekday at noon.
Your daily dose of news, notes and links from around Kansas University.
• Neeli Bendapudi, KU's new business dean, has named a few more folks to her leadership team at the school.
John Sweeney, who is joining KU from Washington State University, will serve as director of accounting and information systems. At WSU, he was the chairman of the accounting department and the Ted Saldin Distinguished Professor of Accounting.
Surendra Singh, a member of the KU business faculty since 1995, will be the new director for marketing, economics and business law. He's a professor of marketing who taught at the University of Oklahoma before coming to KU.
Catherine Shenoy, on the business faculty since 1993, will oversee the school's MBA program. She has most recently led the school's Applied Portfolio Management program.
• Starting today, Memorial Drive will be closed from the east end of Snow Hall to 50 feet east of the crosswalk going down to Potter Lake for some sewer work.
On Friday, sewer lines were backing up. Upon further investigation, workers determined that the sewer line had either broken or crumbled.
The work is expected to be completed by Thursday.
This is all extremely welcome news, I'm sure, for folks working in Spencer Research Library, which is the only building affected by the issue. Until it's fixed, they're without working water or sewer service.
• The KU School of Medicine in Wichita has hired Steve Charles as its new director of medical education.
He comes to the school from the University of South Florida College of Medicine.
By the way, what the heck is the University of SOUTH Florida doing in Tampa, Fla.? It's just a tad bit farther south than the University of Central Florida in Orlando. That's always bugged me.
Anyway, Charles was working there as the school's academic services director. In his new role, according to a statement from the campus, he'll be providing support, development and implementation of the medical school curriculum for undergraduate and graduate medical education.
• I'm looking forward to the return of the university to normal in a couple weeks when students get back on campus. I think I'll break out the KU directory once again then, and start my randomly singling people out to submit tips. But you don't have to wait until then. Just send me an email at ahyland@ljworld.com.
Copyright 2018 The Lawrence Journal-World. All rights reserved. This material may not be published, broadcast, rewritten or redistributed. We strive to uphold our values for every story published.