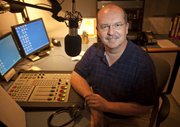 "I've always loved radio," says Mark Edward Michaud, Kansas Public Radio's classical music director.
"I got my first transistor for Christmas when I was 7 and was one of those kids who would try to listen to distant radio stations at night."
Born in Presque Isle, Maine, he and his family moved frequently with his dad's U.S. customs officer job. Edwards, (his on-air name) who is bilingual, spent his high school years in Montreal, Canada. He studied at McGill University's School of Music program for high school students and later studied voice and piano at the University of Maine.
In his freshman year, while listening to a Caribou, Maine, radio station, he heard an appeal for an announcer, no experience necessary.
"I drove straight by the studios, they put me on air, and after reading a newscast, was hired on the spot for minimum wage," he says.
Since then Edwards has worked as operations manager and program director in radio stations around the country, including New Orleans, Atlanta and Florida. While program director at WCRB, Boston, from 2007 to 2009 (at that time the highest-rated commercial classic radio station in the country,) he hosted daily classical shows and the weekly Boston Symphony radio broadcasts.
He fell in love with Kansas in the early 2000s when he worked for a short period as program director of a jazz station.
"I didn't know what to expect when I first moved to Kansas City," Edwards says. "I soon discovered people were warm and friendly, and I enjoyed the arts community immensely."
He returned to the Northeast as operations manager for two radio stations in Portsmouth, N.H., and applied to KPR when Rachel Hunter retired after 27 years.
"I was searching for another adventure and was delighted when KPR offered me the position as classical music director," Edwards says.
"I'm delighted to be back in Kansas. Lawrence is a fabulous town with a great culture and downtown, and lots of wonderful music. I've already attended lots of concerts, I've joined my church choir, and I'm looking forward to learning more about this great community."
Edwards loves sharing the world's greatest music with his radio audiences.
"I have a great passion for music, and I think that passion is contagious," he says. "When I talk about great classical music I make sure I do it in everyday language. We don't all have to be great musicians to love and appreciate good music, and I make sure the music I'm playing for the most part has memorable melodies that will keep people coming back for more."
Edwards is fully aware of the challenges radio faces from other media outlets.
"In this age of the Internet, and all kinds of media vying for our attention, I think the number one way we remain viable is to remain locally focused," he says.
"You'll always hear me talking about and promoting local music. Wherever possible we'll have live music performance on the air at KPR and frequently preview upcoming concerts in the area," he says. "This way we are offering a service you can't find anyplace else."
— Eileen Roddy can be reached at eileenroddy@sunflower.com.
Copyright 2018 The Lawrence Journal-World. All rights reserved. This material may not be published, broadcast, rewritten or redistributed. We strive to uphold our values for every story published.