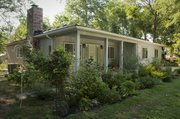 Sometimes gardeners garden without realizing the benefit they provide to others. Valentin and Daniela Vidrascu's garden, on a quiet street in east Lawrence, is a perfect example. The flowers and shrubs Daniela has planted in front of their home offer a bright spot to passers-by.
When the couple bought their home six years ago, the front yard was bare. The backyard was the opposite — almost a jungle of overgrown shrubs and trees. Moving here from Cologne, Germany, it was the first time the Vidrascus had a yard of their own.
"When we lived in Germany, I dreamed for a house," Daniela tells me. "There was not a place to put a flower, just a few pots."
Daniela started planting shrubs and flowers in front, and clearing out what she could in the backyard. She was learning as she went.
Now, clematis, butterfly bush, lavender and coreopsis bloom happily and provide that aforementioned brightness.
"This is my favorite," Daniela says of the clematis. "It was so small when I planted it, and now you can see how big it is and how much it blooms. I have purple, white and pink."
Nearby, chartreuse barberries add color amongst azaleas and dianthus, which bloomed earlier this year. Chrysanthemums will open their buds soon and hold until frost.
There has been some trial and error, Daniela says. "What's not growing well here, I move to my corner," she says as she motions toward the side of the house. The plants I see, mostly hydrangeas, appear to be thriving in their "new" location.
As a backdrop to the front landscape bed, Daniela uses large potted plants, including sansevieria and dracaena. The tropical plants are overwintered in a sunroom on the back of the house with orchids, African violets and Christmas cactus.
Although modest about any benefit to her neighbors, Daniela is open about what the garden does for her.
"I'm working every day, and I'm so tired sometimes. But when I see my house and my plants from the corner, I'm not tired anymore."
Daniela also finds joy in the hummingbirds and butterflies that come to visit her plants.
In the backyard, where Daniela has removed the overgrown trees and shrubs, is a small vegetable garden and the beginnings of another large flower bed. She hopes to recruit Valentin to help her create an island of perennials and shrubs that is getting started with coneflower and butterfly bush.
I suspect Daniela's gardens will only get more beautiful.
Copyright 2017 The Lawrence Journal-World. All rights reserved. This material may not be published, broadcast, rewritten or redistributed. We strive to uphold our values for every story published.