Photo Gallery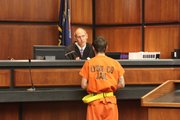 Lyon County's Drug Court gives offenders a second chance
Emporia — After Judge Lee Fowler calls her name, Jody McKinsey strides to the front of the large Lyon County courtroom.
McKinsey, 24, of Emporia, hands Fowler a small book that operates as her daily planner. She stands there looking up at the judge as he thumbs through the book.
Fowler likes what he sees in the planner, and he's happy about the report he received an hour earlier from a probation officer about McKinsey, who is serving a probation sentence for marijuana possession.
She's obtained a sponsor for drug treatment. She's working full time, and she's enrolled in classes for later this month at Flint Hills Technical College.
"Everything looks pretty good. You've gone to all your meetings," Fowler says. "I'm going to move you into phase two."
Immediately, the other defendants there for Lyon County's drug court session and the team of probation officers and treatment providers, who are sitting in the jury box, break into applause.
"It's kind of a confidence booster. It's a reminder that I'm on the right track, and I'm doing the right thing," said McKinsey, who said participating in the court in the month since her conviction has allowed her to renew her focus on her two young children and her career. "It's a dramatic change. It was pretty much a 180."
The positive reinforcement is not typical for a court setting, but Fowler's drug court is an intensive probation program aimed at reducing substance abuse among drug offenders, keeping them out of jail and prison and making them productive members of society.
Fowler, who has presided over the state's first drug court in Lyon and Chase counties since it started in 2004, says it's no coincidence other counties across the state, including Sedgwick and Reno counties, have implemented similar systems.
"It's the most effective probation program that exists in the state of Kansas as far as I know," Fowler said.
A drug court like Lyon County's has drawn some interest recently among Douglas County court officials, but Chief District Judge Robert Fairchild said the county is pursuing grant funds for a similar program that focuses on domestic violence instead.
Fairchild said in the future if a Douglas County judge shows interest in running a drug court, he would support one in the Lawrence area.
"In a perfect world I would like to try it, but we're not there yet," he said.
How it works
Fowler's drug court is a product of a 2003 Kansas law that established a nonprison sanction of drug abuse treatment programs for certain offenders conviction of felony drug possession.
The nation's first drug court was established in 1989 in Florida, and Fowler says Kansas lags other states in using them. Research about drug courts generally has found that most people who successfully complete their program are less likely to offend again and that drug courts can reduce recidivism compared with a normal probation program.
In Lyon County, the drug court system is a team effort by the judge, probation officers and community treatment providers who help people on many fronts, including substance abuse, housing, employment and mental health issues.
Fowler said on average 55 to 60 people are participating at one time. It is divided into three phases:
• 30 to 90 days of assessment and primary treatment. Participants attend court and talk to Fowler every Thursday afternoon in addition to the development of an initial treatment plan, attending four Narcotics or Alcoholics Anonymous meetings a week, gaining or maintaining full-time employment, obtaining a sponsor and submitting to drug and alcohol testing.
• Six to 12 months of treatment, in which participants follow through on treatment recommendations and drug-court appearances become less frequent than weekly.
• Up to six months of continuing care and graduation, in which participants write a graduation essay and are allowed to speak at a ceremony once they finish.
As probation officers and care providers work to monitor the drug court participants throughout the week, they compile a weekly report summarizing what is happening with each client. Then Fowler meets with probation officers and care providers one hour before court each week to get an update and to help him decide what he will say in court to each person.
"We get the whole puzzle instead of just pieces of the puzzle, which helps them in their success," said Shelley Wright, executive director of Path to Recovery in Emporia.
Then Fowler heads to the third floor of the courthouse to conduct court. Last Thursday, 25 people were on the docket.
He called the cases one by one, and each client walked up to stand directly in front of the bench.
Most cases are brief — between 30 and 60 seconds. Fowler tells defendants to come back the following week or in two to three weeks.
Honesty is the policy
It wasn't all fun.
Fowler can penalize drug court participants with community service hours or even jail time for transgressions, such as failing drug tests or being late for appointments with officers.
But the main thing Fowler doesn't tolerate is lying. On Thursday he ordered a man to serve another week in jail — although he can be released to work — for lying to him one week earlier about a pill he took. The man said the person who gave it to him told him it was Adderall, but Fowler said a drug test confirmed methamphetamine in the man's system.
"The real issue is you have to be honest with the probation officers, treatment providers and honest with the court while we're trying to deal with this problem," Fowler told the man.
The judge says honesty is a cornerstone of the program.
"We've got to get them honest before we can get them treated," Fowler said.
One person was working to take the judge's advice more to heart this time around. Rachael Campbell, 37, of Emporia, said she made it through the program about two years ago. She did what was expected with her, but after being clean for 18 months, she relapsed into drug use for about six months.
She was using even more until she was arrested, which she said saved her life.
"My addiction delivered me to death's doorstep," Campbell said.
This time, she's taking her drug court experience more seriously.
"I wasn't being honest with myself," said Campbell, who has enrolled in technical school and wants to transfer to Emporia State University eventually. "Now I'm being honest with myself and truly working to heal myself."
Resources
Fairchild, Douglas County's administrative judge, said a drug court system has been on his radar, and District Judge Sally Pokorny, who was interested, even observed Fowler's court last year.
But they decided to seek federal grant funding for a similar domestic violence court, another frequent criminal problem the county's judges see. Fairchild said substance abuse is likely a major contributor in domestic violence cases as well, so there would be some overlap.
Douglas County's judges are waiting until September to hear about results from their third application for grant funds to help with a domestic violence court. Plans are in the very early stages.
While Fairchild said Douglas County likely would operate a drug court if another judge showed future interest, he also worried it could be taxing for probation officers, who are already busy keeping up with case loads.
"It would be overwhelming for them," he said.
However, Fowler believes a drug court would be beneficial in Douglas County.
The Lyon County judge said it does create work for community corrections probation officers because they prepare a report on each person due in court that week, but they are supervising people who would be on probation anyway. He still handles a full caseload outside drug court, which takes two hours of his week, and he believes the process is more efficient because the judge can sanction someone more quickly for probation violations in drug court.
A normal probation violation can take weeks or even months, and he said not everyone makes it through drug court.
"If you can motivate these people to be successful, you keep them out of prison. They become taxpayers. They get rid of their addictions," Fowler said. "The other side of the coin is if they're going to be screwups and violate their probation, we catch them earlier, and we can incarcerate them earlier if that's what we need."
Copyright 2017 The Lawrence Journal-World. All rights reserved. This material may not be published, broadcast, rewritten or redistributed. We strive to uphold our values for every story published.